America's Out-of-Control Heroin Problem, in Two Charts
Philip Seymour Hoffman's career spans Boogie Nights, Magnolia, The Big Lebowski, Almost Famous, The Talented Mr. Ripley, Charlie Wilson's War, Doubt, The Master, Moneyball, The Savages and Death of a Salesman. His list of accomplishments goes on.
It won't go on any longer. Hoffman, 46, was found dead yesterday with a needle in his arm. It's easy to want to peg his death into a cautionary tale of rock stars and celebs who pushed a lifestyle of excess to its limits. We shouldn't.
The U.S. has a heroin problem, and it's getting worse. The chart above shows the number of Americans, in thousands, who used heroin in the last year. There was a 66 percent increase from 2002 to 2012. The number of people addicted more than doubled during the same period, according to the annual survey of drugs and health conducted by the U.S. health department.
There's no single reason for the sudden rearing of this dark horse. Heroin has become cheaper, more pure (which means it can be snorted rather than injected) and easier to score on America's streets. Last year Bloomberg News tracked the spreading influence of a Mexican drug cartel that's pushing the heroin epidemic.
Heroin also returned to American prominence as an easy substitute for people who have already become addicted to prescription opiates like oxycontin, oxycodone and codeine. Even more than heroin, prescription opioids are driving a surge in drug-overdose deaths, which have increased fivefold since the 1990s.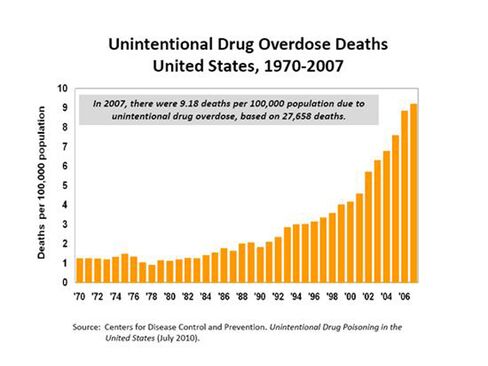 The death of Philip Seymour Hoffman defies easy explanation. He was a recovering addict who spent two decades clean before a relapse last year. He leaves behind three children, a legacy of great acting and a country struggling with the same addiction that cut his life short.

Related: Heroin Resurgence Sparked by Cheap Cost, Easy Access
More from Tom Randall:
Before it's here, it's on the Bloomberg Terminal.
LEARN MORE