China-Japan Relations at Low Point, People's Congress Aide Says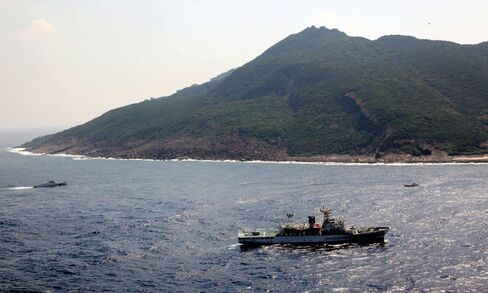 China's relationship with Japan is "probably at its worst" amid a territorial dispute and the Communist government will take action to maintain stability in the region, a senior Chinese official said.
Fu Ying, chairwoman of the Foreign Affairs Committee of China's National People's Congress, told a panel at the Munich Security Conference yesterday that the government in Beijing would "respond effectively to any provocation" that risked upsetting the "order of tranquility" in East Asia.
"Many people are worried," Fu told the panel in English. "The bilateral relations, the cooperation is suffering a lot."
A deepening conflict between the two nations over a chain of islands in the East China Sea threatens security in the region as the countries escalate rhetoric over their World War II past. About a month after Japanese Prime Minister Shinzo Abe's visit to a shrine honoring wartime leaders, Fu blamed Japan's "history of denial" of its crimes during the war.
Japanese Foreign Minister Fumio Kishida offered a rebuttal in a separate statement, saying Japan had undertaken "serious reflection" of its wartime and colonial past. He listed Japan's peacekeeping involvement in the Middle East and Asia and its contribution to nuclear non-proliferation.
"We would like to pursue dialog with China" on security issues, Kishida told the conference.
Protests broke out in China in late 2012 after the Japanese government bought some of the disputed islands, known as Senkaku in Japanese and Diaoyu in Chinese, from a private owner. Tension escalated in November when China established an air-defense identification zone in the area, demanding civil and military aircraft present flight plans to its authorities.
Historic Burden
Chinese Foreign Ministry spokesman Hong Lei yesterday dismissed as "speculation" reports by Japanese media that China plans to declare an air defense identification zone in the South China Sea.
China doesn't feel there are air security threats from Southeast Asian nations and feels "optimistic" about its relationship with them, Hong said in a statement on the ministry's website.
In December, Abe, who has called for talks with Chinese President Xi Jinping, roiled relations further by visiting the Yasukuni shrine in Tokyo, which honors 14 wartime leaders convicted as Class-A war criminals, including Hideki Tojo.
"Until they can take off the burden of history they keep on carrying on themselves, it's very hard for them to become a constructive member of Asian partnership," Fu said of Japan.