Pro Gamblers Profit by Amateurs Wagering on Super Bowl Overtime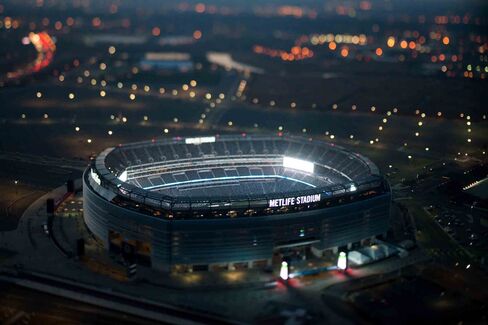 Professional gamblers looking for value will be betting that the National Football League title game doesn't go to overtime for the 48th straight year.
While odds at Nevada sports books indicate a 13 percent chance of the Denver Broncos and Seattle Seahawks needing extra time to decide tomorrow's matchup at MetLife Stadium in East Rutherford, New Jersey, history shows the likelihood of an overtime game is far less. Experienced bettors will be trying to exploit that difference, said RJ Bell, founder of Las Vegas-based handicapping information website Pregame.com.
This season, 16 of 266 NFL regular-season and postseason games -- or 6 percent -- have gone to overtime. In 2012, it was about 8.5 percent and the previous season it was 5.5 percent.
"The books are trying to deflate these numbers," Bell said. "The flip side is the professional bettors and multiple grinders I know here in Vegas will shop for the best price and bet no overtime or no safety."
A bettor would have to wager $900 on there not being an overtime to win $100 at the Las Vegas Hotel's SuperBook.
A winning $100 wager on there being overtime would return a $600 profit, though the fairer odds should be around 13-1, Bell said. That hasn't stopped many bettors from thinking a Super Bowl overtime is due after an 0-for-47 run.
"The average novice bettor loves to bet a little bit to win a lot," Bell said in a telephone interview. "He likes a big payoff, he wants to win more than he risks. So what happens is the books really build a premium into that player bias. There's such a mis-pricing due to that player bias."
Record Looms
This Super Bowl probably will set a record for wagering, surpassing the record handle of $98.9 million set last year at Nevada sportsbooks, said Jimmy Vaccaro of the South Point Casino in Las Vegas. Legal wagering on the game in Nevada accounts for less than 1 percent of the total handle, according to Bell, who estimates than more than $10 billion will be bet on the Super Bowl worldwide.
Helping drive interest is the appeal of the Broncos, who last month surpassed the Dallas Cowboys as the most popular NFL team, according to Public Policy Polling, and quarterback Peyton Manning, who is the most likable active U.S. athlete, said Repucom's SponsorLink, which examines domestic trends and developments across the sports industry.
Wagers on overtime or a safety at the Super Bowl are among the most popular of the hundreds of proposition bets, according to Jeff Sherman of the Las Vegas Hotel's SuperBook. While the overtime wager has yet to pay off for those who predict "yes," there have been safeties in the past two Super Bowls, resulting in heavy losses for Nevada sports books.
Overtime Chance
Considering how closely the Broncos and Seahawks are matched, the chance for overtime this year might be slightly better than in past Super Bowls, said former NFL offensive lineman Ross Tucker, now a host for Sirius XM NFL Radio. Denver is favored by 2 1/2 points over Seattle, according to most of the major Las Vegas sportsbooks, just the fifth time the Super Bowl point spread has been less than a field goal.
"It's going to be very close and competitive," said Tucker, a former Princeton University lineman who spent time with five NFL franchises. "You've got the best teams in each conference and the two best teams over the course of the year. I also think an overtime game would create a lot of confusion because how many casual fans wouldn't know the rules."
The NFL in 2012 instituted a modified sudden-death rule in which both teams would get a possession in overtime unless the team with the ball first scored a touchdown or gave up a defensive score.
Narrow Spread
The last Super Bowl with such a narrow point spread was two years ago, when the New England Patriots were favored by the same amount over the New York Giants. The Giants trailed by three points before pulling out a 21-17 victory on Ahmad Bradshaw's touchdown run with 57 seconds remaining.
The only other Super Bowl with a 2 1/2-point spread was after the 1970 season, when the Baltimore Colts were favored over the Dallas Cowboys and won 16-13 on rookie kicker Jim O'Brien's field goal with five seconds left.
"I know there's been some close ones," Broncos linebacker Danny Trevathan said. "It is surprising there hasn't been an overtime Super Bowl yet. Maybe we're due. We expect it to be a close game."
On the field, the game matches the Broncos' offense -- the highest-scoring unit in NFL history -- against a Seahawks defense that allowed the fewest points and yards in the league. It might also be the coldest Super Bowl on record, with a predicted high temperature of about 45 degrees Fahrenheit (7.2 Celsius) and a low of 27 degrees tomorrow, according to the National Weather Service, though snow isn't in the forecast.
Over-Under
Although the Broncos and Manning scored a record 606 points during the regular season and the weather forecast is relatively favorable, the majority of wagers are on Denver and Seattle totaling 47 points or fewer. The over/under betting line for scoring in the game is 47.5.
"It surprises me," said Kevin Bradley, manager at online sports book Bovada.lv. "Even with the weather looking to be warmer and less chance of snow, 70 percent of the bets are still on the under."
Before it's here, it's on the Bloomberg Terminal.
LEARN MORE