Panama's $5 Billion Canal Upgrade Jolts U.S. Ports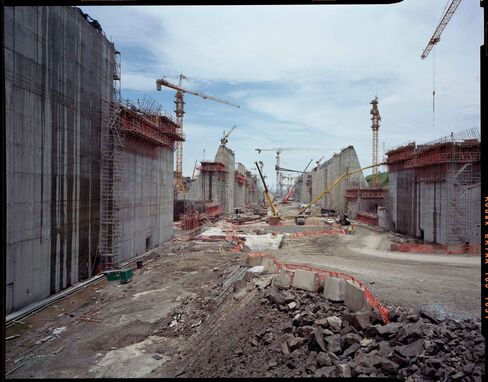 It's an overcast morning as the Zim Shanghai squeezes through the narrow locks near the eastern end of the Panama Canal.
The ship is part of a dwindling fleet that still uses the waterway to transport stacks of freight containers from Asia. Just west of the canal, a new shipping lane is taking shape -- one that is designed to bring Asian vessels back, Bloomberg Markets magazine will report in its March issue. Cranes rise above the jungle, while Caterpillar trucks the size of two-story houses carry away some of the 50 million tons of dirt and rock being excavated. The work goes on seven days a week, 24 hours a day, with about 6,000 workers suffering through tropical humidity and an eight-month rainy season.
"Lightning and thunder, you can't do anything about," says Ilya de Marotta, the canal's executive vice president for engineering and program management. "Other than that, you have to work."
A century after U.S. President Theodore Roosevelt's gunboat diplomacy made the Panama Canal a reality, the Panama Canal Authority is rushing to finish a $5.25 billion effort to keep the canal relevant. New locks and a deeper channel will accommodate ships 1,200 feet long (366 meters long) and 160 feet wide -- 25 percent longer and more than a third wider than the biggest ships that can use the canal today.
Canal Expansion
These bigger vessels will be loaded with as many as 12,600 20-foot containers, 2.5 times what a ship like the Zim Shanghai can handle. The canal expansion will also make room for ships that carry commodities such as liquefied natural gas. Touring the project in November, U.S. Vice President Joe Biden emphasized this last point.
"This is a very important thing for the United States," Biden said as workers pounded away on the 10-story-tall concrete blocks that will hold the gates for the new locks. "And as the energy production throughout the Americas grows, Panama is going to play a critical role in bridging energy supplies in the Atlantic with a growing demand in the Pacific."
The Panamanian economy has been on a tear: Gross domestic product has risen an average of 8 percent annually for the past five years, to $36 billion in 2013. The canal project is both a big reason for this growth and the linchpin of Panama's plan for sustaining it. The country ranks sixth among emerging markets in investment outlook, according to BLOOMBERG MARKETS' annual ranking.
Centennial Year
In projected GDP growth, Panama ranks second, behind only China, at 6.7 percent for 2014 through 2015. The Panama Canal Authority, the agency that operates the canal, began the expansion project in 2007, with the goal of completing it in 2014, the waterway's centennial year. That won't happen, for reasons including an early foul-up with the concrete mix for the locks, a number of strikes and a still-raging fight between the canal authority and contractors over cost overruns.
The expected opening has been pushed back to late 2015. When the new locks do become operational, the canal will once again shake up shipping and ports worldwide. Among the winners will be manufacturers that move goods from Asia to the U.S. Copenhagen-based A.P. Moeller-Maersk A/S, the world's biggest container-shipping company; Beijing-based China Ocean Shipping Group Co.; and other lines may be able to cut transport costs as much as 30 percent by sending bigger ships through Panama to move Asian cargo to Boston, New York and other East Coast ports.
West Coast Ports
These shippers now unload goods onto trains and trucks on the West Coast of the U.S. to finish the journey east, or make the trip to East Coast destinations from Asia via Egypt's Suez Canal. The losers are likely to be the West Coast ports -- Long Beach, California; Los Angeles; Oakland, California; Seattle -- and the Suez Canal.
"A cheaper Panama Canal route may also divert current US imports from the Suez Canal, with a significant time savings on the shorter routing," Barclays Plc said in a report issued last April.
The canal project is only part of the massive infrastructure spending that is propelling the Panamanian economy. Panama is nearing the end of a four-year, $13.6 billion campaign intended to, in the terms of a 2012 report from Standard & Poor's, remake the country as a shipping and logistics hub on a par with Singapore. (The Singapore analogy is also a favorite of Panama's president, Ricardo Martinelli.)
The spending is mostly on new hospitals and roads and a subway in the capital of Panama City.
Economic 'Duality'
Singapore status, however, is not imminent. The most significant barrier to achieving it is, in the words of the S&P report, a "duality" in the economy: "a split between a modern, prosperous, and externally oriented sector strongly connected with the global economy and a backward, poorer sector employing less-educated people and generating less per capita income."
In other words, inequality. Add to that a legacy of corruption and a reputation as a regional center for money laundering. It was only in August that Panama outlawed the bearer share corporation -- a favorite corporate structure for drug traffickers looking to launder cash, says Angel Gurria, secretary-general of the Organization for Economic Cooperation and Development.
The country remains behind even Switzerland in sharing tax information with foreign governments searching for citizens who are hiding income.
"There is less and less tolerance, less and less patience" for that, Gurria says. "Now, 120 nations around the world are [sharing tax information]. Sixty of them have already signed, including Switzerland, to migrate towards automatic exchange of information, which is the standard we are going to have in the world in the near future. Panama should be part of the collective."
Panamax
That the Panama Canal would one day become obsolete was clear not long after it opened in 1914: Even then, U.S. Navy ships narrowly fit through the waterway. The maximum size of a ship that could pass through the locks came to be called Panamax. By 1996, three years before the U.S. handed control of the canal to Panama, the first post-Panamax ships were in use. Since then, two more generations of new, larger ships have been placed in service.
Even the expanded locks won't fit the largest of them, but those are specialty ships intended for shorter routes between Asia and Europe. The New Panamax ships, as those designed around the dimensions of the expanded canal are called, will be more than sufficient to alter the face of Asia-to-America shipping.
Widespread Approval
In 2006, Panamanians approved, with 80 percent of the vote, a plan to widen and deepen the canal. By then, Maersk and Singapore's Neptune Orient Lines had already begun using the Suez Canal for bigger ships from Asia. The rerouting cost the Panama Canal, which produces about $2 billion in annual revenue, about $40 million in business last year, says Jorge Quijano, the waterway's chief administrator.
"It was going to happen sooner or later," Quijano says. "We'll accommodate for it, and we will survive."
The widening of the canal has triggered preparations at ports up and down the East Coast of the U.S. and throughout Latin America. The Port Authority of New York and New Jersey is raising the Bayonne Bridge; Savannah, Georgia, plans to deepen its river by 6 feet; and Miami has budgeted $2 billion to modernize its port.
Deep-Water Ports
In the Bahamas, Hong Kong billionaire Li Ka-shing's Hutchison Whampoa Ltd. has built a deep-water port at Freeport, vying to become a transshipment hub, a place where cargo is unloaded to smaller boats that can navigate cramped waterways across the Caribbean. And in Louisiana, Lake Charles Exports LLC got permission in August from the U.S. Department of Energy to ship liquefied natural gas from its terminal in Lake Charles.
It's the fourth company awarded such a license, and 21 more applications are pending. This activity is largely about Asian markets, which will be made accessible when the expanded canal opens. U.S. exports of natural gas liquids could jump to 20 million metric tons in 2020 from the current 5 million metric tons, according to Sanford C. Bernstein & Co.
Jurisdictions threatened by the canal are fighting to keep their share of the shipping market. U.S. West Coast ports now account for about 70 percent of container trade between the U.S. and Asia. Cheaper transport by water could shift 10 to 15 percent of the action over to Eastern ports, according to Barclays.
Los Angeles, the busiest U.S. port, is spending more than $1 million a day to improve infrastructure during the next five years and defend its market share, says Phillip Sanfield, a spokesman for the port.
Central American Investors
Panama's neighbors also see gold in opening avenues across the Central American isthmus. Guatemalan President Otto Perez Molina said in July that his government was seeking investors to build a rail line that would shuttle cargo between ships on the Atlantic and Pacific sides of the country, following a similar proposal announced by Honduras.
The most ambitious proposal is from Nicaragua, which narrowly lost out when Panama was chosen as the site of the U.S.-built canal a century ago. In June, President Daniel Ortega's government granted rights to Hong Kong–based HKND Group to construct an interoceanic canal at an estimated cost of $40 billion.
Rodolfo Sabonge, a former vice president for the Panama Canal Authority, says all competitors are taken seriously. Yet he doubts that any other Central American country has what it takes.
"It's not that easy," Sabonge says. "You need human resources, the processes and the culture to be efficient. We have all that."