JPMorgan Extols Virtues of Ruble's Record Plunge: Russia Credit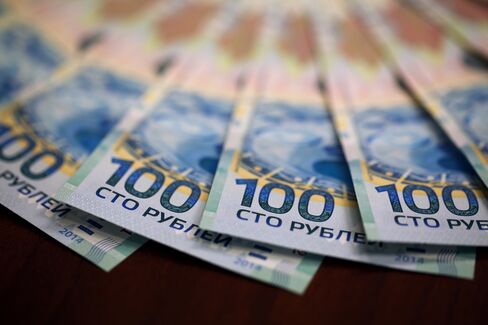 The ruble's plunge in this week's emerging-market selloff holds the promise of more competitive Russian exports and higher budget revenue, JPMorgan Chase & Co.'s asset-management unit and Capital Economics Ltd. said.
"There has been limited official rhetoric about the need to prevent the ruble from weakening," Liza Ermolenko, an emerging-markets economist at Capital Economics, said by phone from London. "A weaker ruble improves competitiveness in international markets and boosts government revenue from oil."
The Finance Ministry canceled a scheduled bond auction amid the developing-nation rout after selling less than 25 percent of the securities on offer this month. Russia should abstain from following Turkey and South Africa in raising interest rates to bolster the ruble, Finance Minister Anton Siluanov said Jan. 29.
The ruble tumbled to the lowest on record against the central bank's basket of dollars and euros this week as Chinese manufacturing contracted and the Federal Reserve pushed ahead with stimulus cuts. That slide helped drive the yield on Russia's February 2027 bond 14 basis points higher on Jan. 29, the most since June. That compares with a 10 basis-point advance for similarly dated debt from Mexico, which carries the same rating at Moody's Investors Service.
Commodity Dependence
Crude oil and natural gas exports account for about 50 percent of Russia's budget revenue and President Vladimir Putin has urged officials to diversify the economy and reduce its dependence on commodities. Brent was steady yesterday at $107.95 a barrel in London, compared with $36.61 in December 2008, before the currency reached its previous low.
"I'm sure the government is happy seeing the currency weaken a bit," Matias Silvani, who helps manage $35 billion of emerging-market debt at JPMorgan Asset Management in New York, said by e-mail yesterday. Russia is facing a "weaker economy, exposure to commodities" and is "trying to gain competitiveness," he said. "A weaker currency, managed, helps on all three fronts."
Elvira Nabiullina, the economic aide to Putin who took charge of Bank Rossii in June, resisted cutting rates last year to boost economic growth as inflation remained above target. The economy expanded 1.2 percent in the third quarter from a year earlier, matching the weakest pace since a 2009 contraction.
Auction Axed
The Finance Ministry axed its auction on Jan. 29, citing market conditions, after issuing 750 million rubles out of 10 billion rubles of 2019 bonds offered at a sale the previous week. While the ministry plans to sell bonds next week, it's not a problem if the first-quarter borrowing plan isn't met, Konstantin Vyshkovsky, head of Finance Ministry's debt department, told reporters in Moscow yesterday.
When the local currency depreciates, Russia's budget receives more rubles from taxes and duties paid by energy companies whose export revenue is priced in dollars.
Russia's budget deficit may be equal to 0.6 percent to 0.7 percent of gross domestic product this year, the Interfax news service said Jan. 23, citing Siluanov.
The yield on Russia's 2027 OFZ bond has increased 50 basis points this year to 8.4 percent, the highest since July 2012, data compiled by Bloomberg show. The yield on Mexico's debt is up 26 basis points this year at 7 percent.
Third Worst
The ruble climbed for the first day in six yesterday, adding 1 percent to 40.5092 against the basket after 6 p.m. in Moscow when the central bank ends its market operations. The ruble lost 6.7 percent against the dollar this year, the worst performer among the 24 emerging-market currencies tracked by Bloomberg, behind Argentina's peso and South Africa's rand. The currency retreated 0.8 percent to 40.81 by 4:44 p.m. in Moscow today versus the basket.
"Many investors are saying that it would be good for the central bank to raise rates," Evgeny Kochemazov, head of fixed income at Alfa Capital in Moscow, said by phone yesterday. "That's probably the only way to stabilize the situation in the currency market, to prevent the growth of OFZ yields."
Russia is rated Baa1 at Moody's Investors Service, the third-lowest investment-grade category. The yield on the government's April 2020 dollar bonds was steady at 3.83 percent today. The extra yield investors demand to hold the nation's dollar debt over Treasuries dropped one basis point to 246.
Russian policy makers are scheduled to discuss borrowing costs on Feb. 14. Bank Rossii will leave the key one-week rate at 5.5 percent in the first and second quarter, according to the median estimate of 22 economists in a Bloomberg survey.
The economy stands to gain from the ruble's drop, according to Alexei Kudrin, a former Finance Minister.
"Overall it's positive," he said in Moscow yesterday. "It will support industry."
Before it's here, it's on the Bloomberg Terminal.
LEARN MORE