How Not to Get Scammed on Super Bowl Tickets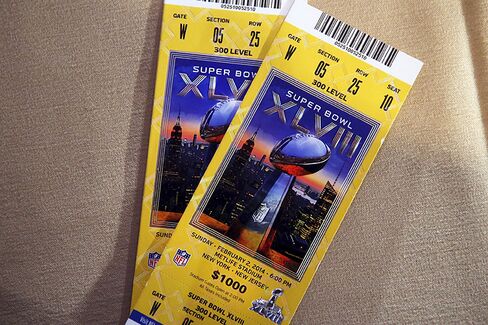 With the Super Bowl now two days away, the underbelly of the nation's biggest annual spectacle is getting an airing in New York. Federal authorities seized $21.6 million in fake National Football League jerseys, hats, and other gear. Arrests in New York targeted an alleged drugs-and-prostitutes ring that uses public-access television to market "party packs." A Secret Service special agent told DNA Info that millions of dollars in phony $100 bills—with tell-tale "black 7s above the last zero on the lower right-hand corner"—are circulating in the city.
Amid the other Super Bowl-related scams, there have already been multiple busts for ticket counterfeiting. A pair of men were arrested at a Bronx White Castle earlier this week with "a bag filled with 36 fake tickets to the Super Bowl" and passes to various parties around the city. (Pro tip: Never buy tickets at a Bronx White Castle.) And yesterday Bronx prosecutors said they had arrested a man with $113,900 worth of fake tickets in his apartment, where they also found "holographic paper, gold leaf paper, laminate glue, two packages of 4-by-6 photo paper, a cutter and hot press."
The Super Bowl is unusual in that all tickets are issued on paper only. This means they either have to be purchased in person or by mail. On the NFL's official ticket exchange, sellers send their tickets to Ticketmaster for authentication before they are shipped to buyers. The league also has a pickup location at the Crowne Plaza Hotel in Times Square for last-minute sales. This is probably the safest route. Those with means can also turn to high-end brokerages who hand-deliver and have a phone number to call if anything goes wrong.
For those braving the wilds of Craigslist or strangers on the sidewalk, it's buyer beware. A street scalper gave New York magazine this helpful tip: "If you go with a friend and you buy two tickets, you tell the people, 'Let my friend go in first, once he goes in, then I give you the money.'"
Before it's here, it's on the Bloomberg Terminal.
LEARN MORE