Commissioner Says NFL to Consider Adding Two Teams to Playoffs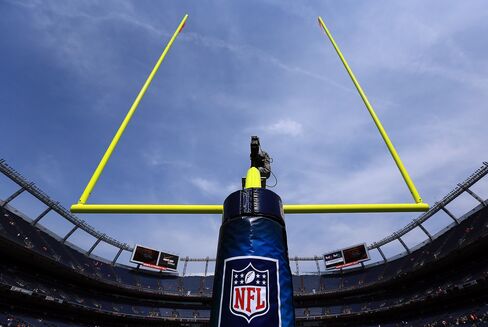 The National Football League will give "very serious consideration" to expanding its playoff format to 14 teams from 12, Commissioner Roger Goodell said.
"We think we can make the league more competitive," Goodell said in New York during his annual pre-Super Bowl news conference. "We think we make the matchups more competitive during the end of the season. There will be more excitement, more memorable moments, and that's something that attracts us."
Two days before the first outdoor Super Bowl in a cold-weather city, a matchup of the Seattle Seahawks and Denver Broncos at MetLife Stadium in East Rutherford, New Jersey, Goodell also said he would look to continue holding the Super Bowl in new communities. He didn't specifically answer a question of whether he'd consider another outdoor, cold-weather game.
"One big focus has been on the weather, and of course we cannot control the weather," Goodell said as fake snow began to fall from the rafters. "The forecast is terrific, it's football ready."
Feb. 2 in East Rutherford is predicted to have a high of 48 degrees Fahrenheit (9 degrees Celsius) and a low of 27, with slight chance of rain or snow, according to the National Weather Service.
Goodell also pointed out that a snow and ice storm this week hit the U.S. South and cities such as Atlanta, which also has been a Super Bowl host.
"We see the opportunity for us to continue to expand our game, continue into new markets, and we find that valuable to the league," he said. "Weather is a factor when you play in the United States in February. That's what we're going to have as a continuing challenge. We're prepared for that."
'Roger's Snow'
Philadelphia Eagles owner Jeffrey Lurie said in an interview after the news conference that his city would like to host the game and that it has all the infrastructure necessary to do so.
"I loved Roger's snow," Lurie said. "It was great."
With Colorado and Washington becoming the first U.S. states to legalize marijuana for recreational use and many states allowing its use for medicinal purposes, Goodell said the NFL's experts had not suggested that it should change its policy of banning the drug and testing for its use.
"It's questionable with respect to the positive impact but there are certainly some very strong evidence to the negative impacts, including addiction and other issues," Goodell said.
Instant Replay
Goodell said the NFL is considering following the lead of the National Hockey League and Major League Baseball in moving its instant-replay reviews to a central location. The league's competition committee will make a recommendation in the next two months, he said.
"I do believe there's a possibility that some version of that will occur, where our office can at least be involved with the decision," Goodell said. "We think there's plenty of room for us to improve the game of football, and officiating in particular."
Goodell said he didn't know what the next step will be increasing the NFL's presence in the U.K., though he was encouraged by having already sold out three 2014 games there.
"The more we give fans in the U.K. of NFL football, the more they want," Goodell said. "I believe you are further down the road because you are three games into it."