Tourism With Chinese Characteristics: 97 Million Trips Last Year and Growing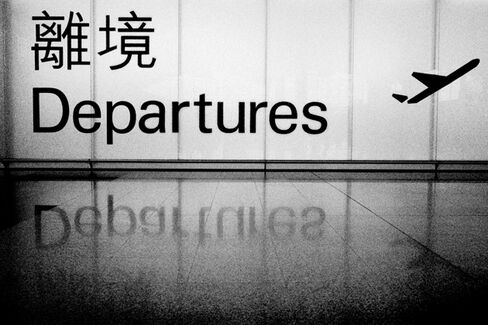 One luxury sector in China that hasn't taken a hit under President Xi Jinping's austerity and anti-graft campaign is overseas travel. Last year, Chinese tourists made 97 million overseas trips—up from just 10 million in 2000 and 83 million in 2012. And their spending on overseas travel increased 28 percent in the first nine months of 2013, as compared with the same period a year earlier.
The overseas travel boom shows no signs of slowing. Two out of three Chinese travelers plan to increase their travel budgets in 2014, according to a survey by Hong Kong-based research firm CLSR. By 2020, CLSR projects the number of overseas trips made by Chinese tourists will double to 200 million, and their total spending will triple.
Currently 62 percent of trips by Chinese tourists outside the mainland are to Hong Kong and Macau, but that percentage will decrease as more travelers venture farther afield. CSLR projects that travel to the U.S. will nearly quadruple by 2020, and travel to France will triple.
Shopping is the other reason Chinese travelers go through passport control. Partly in response to the government's public denunciation of conspicuous consumption, China's wealthy shoppers have taken to doing their shopping abroad. In 2013, China's wealthy shoppers made two-thirds of their luxury purchases on overseas trips, according to Bain & Co. And nearly 60 percent bought cosmetics, perfume, or other items from duty-free travel stores. Chinese tourists spent an average of $7,107 per person on overseas trips in 2011, according to research from the Chinese Academy of Social Sciences. That's nearly three times what the average American traveler abroad spent ($2,440) that year.
Before it's here, it's on the Bloomberg Terminal.
LEARN MORE