Ukrainian Authorities Pressure Activists With Leader Sick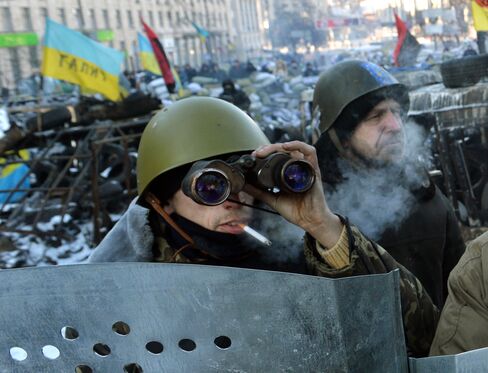 Ukraine's authorities stepped up rhetoric against anti-government activists after President Viktor Yanukovych took sick leave amid weeks of street protests.
The Defense Ministry called for "urgent" steps to stop the political crisis from escalating. Police in the capital said they're probing information the opposition plotted an uprising before the protests began. Yanukovych went on sick leave yesterday with an "acute respiratory condition" and fever, according to a website statement.
The president's attempts to reduce tension in the wake of deadly anti-government clashes last week have failed to clear the streets. After Prime Minister Mykola Azarov's cabinet fell Jan. 28, the opposition rejected an amnesty law pushed through yesterday and wants Yanukovych to step down. Azarov's first deputy, Serhiy Arbuzov, is acting premier.
The Defense Ministry's remarks signal "an escalation in tensions," John Dalhuisen, director of Amnesty International's Europe and Central Asia Programme, said by phone. "It's becoming increasingly clear that the government's ability to placate protesters is waning and the opposition's ability to control the situation is also decreasing."
Yields Rise
The yield on Ukraine's 2023 dollar-denominated government bonds jumped 21 basis points, or 0.21 percentage point, to 10.054 percent today as of 7:51 p.m. in Kiev, the highest level since Dec. 13, data compiled by Bloomberg show.
The Defense Ministry today called on Yanukovych to "stabilize" the country, according to a statement on its website. Ministry officials yesterday expressed support for the president and spoke of a "threat" to Ukraine's territorial integrity if the crisis worsens.
In Kiev, police said they'd gleaned information seized from the opposition Batkivshchyna party of jailed ex-Premier Yulia Tymoshenko showing anti-government protests that started Nov. 21 were pre-planned, not spontaneous. Tymoshenko ally Oleksandr Turchynov denied the claim on the party's website.
Azarov flew to Vienna on his private jet hours after resigning, the Kronen-Zeitung newspaper reported today, citing unidentified "insiders."
Private Business
Azarov arrived in Austria Jan. 29 or Jan. 30, according to an Austrian government official who asked not to be identified. Interior ministry spokesman Karl-Heinz Grundboeck couldn't confirm the information. Azarov will be dealing with private business for a week, spokesman Vitaliy Lukyanenko said by phone, declining to say where the ex-premier is.
After meeting Yanukovych rivals including ex-heavyweight boxing champion Vitali Klitschko, U.S. Secretary of State John Kerry said today in Berlin that President Obama and the American people offer Ukraine's opposition their "full support."
The U.S. House of Representatives Foreign Affairs Committee this week approved a resolution that backs backing for revoking visas of several Ukrainian officials.
Sergei Glazyev, an adviser to Russian President Vladimir Putin, today reiterated claims the West is meddling in Ukraine's sovereign affairs, according to an interview with the corporate magazine of natural gas export monopoly OAO Gazprom.
Yanukovych "faces a creeping coup, and since he's the guarantor of Ukraine's constitution, security and integrity, the president has no choice: either he defends Ukrainian statehood and suppresses rebellion provoked and financed by external powers, or he risks losing power," he said.
Bailout Doubts
Russia agreed to lend its neighbor $15 billion and give it a one-third discount on natural gas prices after Yanukovych rejected a European Union integration pact in November. It may withhold aid until a new government emerges, Putin said Jan. 29.
Yanukovych, 63, blames his rivals for scuppering peace.
"All obligations the authorities have taken upon themselves have been fulfilled," he said yesterday in a website statement. "The opposition, however, continues to escalate the situation."
Klitschko's UDAR party said the president was trying to remove himself from the spotlight.
"Yanukovych's illness does not free him of responsibility," UDAR said on its website. He can use sick leave to avoid "meeting representatives of the opposition and the international community, and to avoid approving urgent decisions needed to lead the situation out of crisis."
Torture Claims
Tensions rose further in Kiev as an anti-government activist was found alive after disappearing nine days ago. His organization said he'd been abducted, tortured and had an ear partially cut off before being thrown from a car outside Kiev.
Police are investigating and haven't yet identified any suspects, the Interior Ministry said. It's placed him on a wanted list of activists set for arrest.
EU foreign-policy chief Catherine Ashton said in a statement that she's "appalled by the obvious signs of prolonged torture and cruel treatment," calling such acts "unacceptable."
The unrest has spread beyond the capital, where activists have taken over the agriculture and energy ministries. Protesters relinquished their hold on government offices in the western city of Lviv yesterday, reducing the number of offices of regional governors picked by Yanukovych that they're occupying or blocking to 12 of the nation's 25.
Protest organizers say 26 people have gone missing since demonstrations began. EU Enlargement Commissioner Stefan Fule called for Ukrainian authorities to act swiftly to stop kidnappings and torture.
The opposition says seven protesters have died -- three from gunshot wounds and one from exposure after being sprayed by a water cannon in freezing temperatures -- and a thousand have been injured in protests, while authorities have detained at least 116 on suspicion of taking part.
A policeman died from wounds from a clash on Jan. 27 in southern Ukraine, while a 30-year-old Interior Ministry captain died of cardiac arrest yesterday, the ministry said.
Before it's here, it's on the Bloomberg Terminal.
LEARN MORE