Travelers Sweet-Spot Call Vindicated in Bond Rally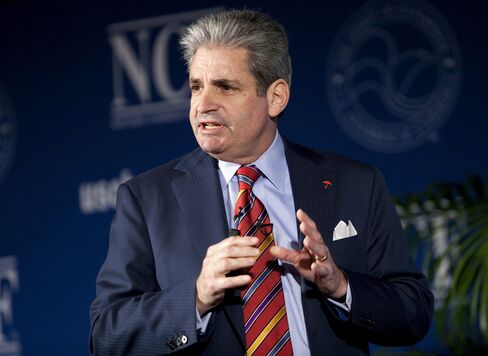 A rebound in the $3.7 trillion municipal market is vindicating investments from Travelers Cos. and Loews Corp., which bet on local debt even as individuals fled at a record pace.
City and state obligations have advanced 2.3 percent in January, the best since a similar gain in September, Bank of America Merrill Lynch data show. Last year was the worst for the bonds since 2008 as individuals yanked $62.7 billion from muni mutual funds, the most in at least two decades, on speculation a growing U.S. economy would push up interest rates.
Instead, benchmark muni yields reached the lowest since June this week. The rally has proved a boon for institutional investors such as Travelers Chief Investment Officer William Heyman and Loews Chief Executive Officer James Tisch, who bought during the sell-off. Combined, the companies own about 1.3 percent of the market.
Travelers is "a large, sophisticated institutional investor in the muni market," said Randy Binner, an analyst who follows insurers at FBR Capital Markets, an Arlington, Virginia-based broker-dealer. "They look for every dislocation, and they have cash."
Growing Influence
Property and casualty insurers buy munis and other bonds to back obligations to policyholders and generate income. The firms owned about $332 billion of local-government debt as of Sept. 30, the most since 2011, Federal Reserve data show. They're the fourth-biggest holders, after households, mutual funds and banks.
During a Jan. 21 earnings call that Travelers executives held with Wall Street analysts, Binner asked where the New York-based company is finding its "sweet spot" in investments.
"Probably the municipal market," followed by corporate bonds and mortgages, Heyman responded.
Loews' Tisch said on Nov. 18 that selling by mutual-fund investors was producing the opportunity for "truly extraordinary" returns.
CNA Financial Corp., the New York-based company's insurance subsidiary, said in July that it was buying state and local debt. The company owned $11.4 billion of munis as of Sept. 30, according to the most recent securities filings.
Benchmark 10-year munis yielded 2.82 percent on Nov. 18, and have since dropped to 2.63 percent, close to the lowest since June, Bloomberg data show.
Whitney Spark
It's not the first time property and casualty insurers have gained after a wave of municipal fund outflows. Travelers, CNA, Chubb Corp. and XL Group Plc either maintained or expanded state and local debt holdings in 2011. They bet correctly against banking analyst Meredith Whitney's December 2010 prediction of "hundreds of billions of dollars" of municipal defaults in the following 12 months.
Individuals withdrew money from muni mutual funds for 24 straight weeks following her projection, Lipper US Fund Flows data show. The latest streak surpassed the 2011 sales, with outflows starting in May and reaching a record 33 weeks before ending Jan. 15.
This month's shift to inflows may have resulted from individuals concluding they had too much money in stocks, said Tom Weyl, director of muni research at Barclays Plc in New York. The Standard & Poor's 500 index of shares rose about 30 percent last year, the most since 1997.
Loss Forecast
Barclays predicts munis will lose 1.45 percent this year as yields rise amid scaled-back bond buying the Fed. The Federal Open Market Committee yesterday said it will cut monthly purchases of Treasuries and mortgages to a combined $65 billion, from $75 billion. If Barclays is right, it would be munis' first back-to-back annual losses in more than three decades.
Travelers CEO Jay Fishman kept most of the company's investments in munis and corporate bonds heading into the 2008 financial crisis, sidestepping losses on mortgage-backed securities that hobbled competitors such as American International Group Inc.
His company has maintained that approach, even as the Fed's stimulus efforts lowered yields at which asset managers could reinvest funds from maturing debt.
Investment income from fixed-income fell to $479 million a quarter on average last year, from $528 million a quarter in 2011, according to a presentation on the company's website.
Investment Appeal
Some of that pressure began to ebb as interest rates climbed in 2013. Travelers said this month that the yields at which it can reinvest cash in tax-exempt securities rose 1.05 percentage points over the course of 2013, compared with an increase of 0.45 percentage point for taxable bonds.
Travelers had about $36 billion of local debt as of Sept. 30, according to regulatory filings. That's about 60 percent of its fixed-income holdings, compared with 30 percent for corporate bonds.
Patrick Linehan, a spokesman for Travelers, declined to comment further on the insurer's investment strategy, as did Mary Skafidas, a spokeswoman for Loews.
Munis have outpaced a broad fixed-income rally this month, beating the 1.6 percent return on Treasuries and a 1.8 percent increase in corporate securities, Bank of America data show.
The bonds have benefited from a drop in issuance, said Phil Fischer, head of muni research at Bank of America in New York. States and cities sold $12.6 billion in long-term debt this year through Jan. 24, down 33 percent from the same period in 2013, Bloomberg data show.