Toyota Labor Union Seeks Salary Increase as Profit Surges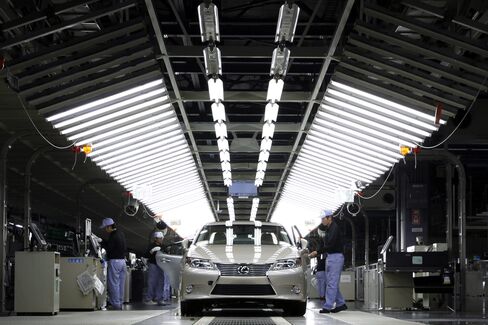 Toyota Motor Corp.'s labor union is seeking a raise in workers' base salary for the first time in five years as analysts estimate profit at Japan's biggest manufacturer rose to a record profit this fiscal year.
The workers will ask at the annual spring labor negotiations for a net 4,000 yen ($39) average increase in monthly wages and annual bonuses valued at 6.8 months' salary, according to a statement from the union yesterday.
The demand from the workers of the world's biggest automaker comes after Japanese Prime Minister Shinzo Abe urged companies to raise wages faster than gains in the cost of living. The squeeze on consumers from higher prices risks undermining public support for Abe unless he can convince companies to boost wages to cushion the blow.
"It's important to reduce concern about the future in order to expand consumption and to get the Japanese economy on a virtuous cycle," the union said in the statement. "We will seek wage increases with that perspective."
Japanese brokerages including Nomura Holdings Inc. and Daiwa Securities Group Inc. have agreed to increase wages for some employees.
Toyota will discuss wage increases with its employees and make a decision, President Akio Toyoda said yesterday at an event in Tokyo, before the labor union announcement.
"I would expect we can negotiate the issue with representatives from the labor union to come to a decision that benefits both sides and is conducive to the company's sustainable growth," he said.
Profit Estimates
The automaker's net income will probably increase 94 percent to 1.86 trillion yen in the year ending March, according to the average of 22 analysts' estimates compiled by Bloomberg. The company in November raised its full-year profit forecast to 1.67 trillion yen.
"The hike in salary and bonuses will increase Toyota's financial burden for sure," Satoru Takada, an auto analyst with Toward the Infinite World Inc. in Tokyo. "But if they don't raise them even as their profit is approaching a record high, that will greatly damp employees' motivation."
Toyota agreed last year to a union proposal for a 2013 average bonus of about 2.05 million yen, the biggest in five years. It paid a 2.51 million yen bonus in 2008, according to the Japan Automobile Workers' Union.
Abe's program of monetary easing, fiscal spending and growth strategies spurred a 51 percent advance in the Topix index of shares last year, and an 18 percent plunge in the yen versus the dollar. Currency depreciation tends to contribute to inflation by boosting import prices, which therefore benefits exporters such as Toyota and Sony Corp.
The wage increases in Japan will probably fail to keep pace with inflation, highlighting risks that the nation's recovery will stall, surveys of economists show.
Consumer Prices
Labor cash earnings, the benchmark for wages, will increase 0.6 percent in the year starting April 1, according to the median forecast in a poll of 16 economists by Bloomberg News. Consumer prices will climb five times faster, increasing 3 percent, as Japan raises a sales tax for the first time since 1997, a separate Bloomberg survey shows.
The prime minister has pressed Japan Inc. to pass some of the windfall to workers through higher base pay, in meetings with business and union leaders since September. The three sides said in a joint statement in December that increased profits should be linked to wages. Japan can't wait one or two years for salary gains, which are needed sooner for the economy to enter a virtuous cycle of rising profits, wages and growth, Deputy Economy Minister Yasutoshi Nishimura said last month.