Roche Sees 2014 Profit, Sales Rising on New Cancer Drugs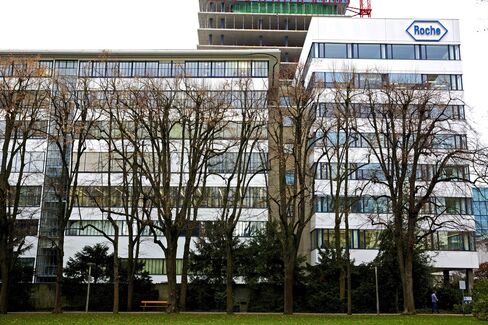 Jan. 30 (Bloomberg) -- Roche Holding AG forecast that revenue will rise by a low to mid-single-digit percentage this year and profit will increase faster as sales climb for its biggest cancer drugs and a slate of new therapies.
Net income last year jumped 18 percent to 11.4 billion Swiss francs ($12.7 billion) from 9.7 billion francs a year earlier, Basel, Switzerland-based Roche said in a statement today. Earnings per share excluding some items, which Roche calls core net income, were 14.27 francs, below the 14.78-franc average of 24 analyst estimates compiled by Bloomberg.
The drugmaker is bolstering its portfolio with new products, including breast cancer medicine Kadcyla and leukemia drug Gazyva, both approved in the U.S. last year. The company is in the enviable position of pairing strong cash flow -- almost 16 billion francs after tax last year -- with a large pipeline of new research projects, said Andrew Weiss, an analyst for Bank Vontobel in Zurich.
"That's a lot of money," Weiss said. "Here you see the power of the business model." Roche is less exposed to patent expirations than other drug companies, and "they have a rich cash flow and are able to funnel that into research," he said. He recommends buying Roche shares.
Roche has been less successful with non-cancer drugs, facing its most recent setback last week with the failure of schizophrenia medicine bitopertin in a pair of final-stage patient trials.
Acquisition Strategy
Second-half core net income rose 2 percent to 5.88 billion francs. Core earnings of 6.69 francs a share missed Sanford C. Bernstein & Co.'s estimate of 7.10 francs, mostly because of higher expenses, Tim Anderson, an analyst at the firm, said in a report. Fourth-quarter sales climbed 0.9 percent to 11.9 billion francs. Roche doesn't report quarterly earnings.
Roche rose 4.3 percent to 249.30 francs in Zurich, the biggest advance since September 2011. The stock returned 24 percent in the year through yesterday including reinvested dividends, compared with a 20 percent return for the Bloomberg Europe Pharmaceutical Index.
The strategy of pursuing "bolt-on acquisitions" hasn't changed, Chief Executive Officer Severin Schwan said on a conference call with reporters today. He declined to specify the size of deals the company is seeking.
Roche executives showed no inclination to alter a policy toward repaying debt that brought the company to an 11 percent ratio of net debt-to-assets at the end of last year, the first time it's hit its target of below 15 percent since buying California biotechnology company Genentech in 2009. Two-thirds of the debt from that deal has now been repaid.
Watching for Deals
What the drugmaker does with its cash will also depend on acquisition opportunities, Schwan said in an interview.
"We will continue to invest in our business," he said. "We have announced that we intend to increase the dividend again for 2014. And then it will very much depend on what M&A opportunities are along the way. We will see how this develops."
Chemotherapy medicine Xeloda and the antiviral drug Valcyte will face competition from generic versions this year, Schwan said. Xeloda had sales of 1.5 billion francs last year, while Valcyte sales totaled 693 million francs. Generics of the two drugs will probably have about a 1 billion-franc impact on sales, Daniel O'Day, head of Roche's pharmaceuticals unit, said in an interview.
New medicines will help offset those losses, O'Day said. Roche now has 15 experimental drugs in late-stage tests.
Governance Changes
Roche's revenue climbed 3 percent last year to 46.8 billion francs, beating the average estimate of 46.7 billion francs. Roche proposed raising the dividend by 6 percent to 7.80 francs a share. The company's sales and profit forecasts are at constant exchange rates.
Currency swings, especially the strength of the franc compared to the U.S. dollar and emerging market currencies, will probably have about a 4 percent downward impact on sales reported in francs and a 6 percent impact on core EPS this year, Chief Financial Officer Alan Hippe said.
The company said today it will put corporate governance changes mandated last year in a Swiss referendum into place a year early. Shareholders will be asked to vote on supervisory board positions each year and to approve executive compensation.
FIFW NSN MZRGKX6KLVRI <GO> Above Tire Fix-It Shop Glycart Makes Roche Leukemia Drug: Health
FIFW NSN MXJUC76S9747 <GO> Lufthansa Boss Quits in Surprise Move to Roche Chairmanship
To contact the reporter on this story: Naomi Kresge in Basel at nkresge@bloomberg.net
To contact the editor responsible for this story: Phil Serafino at pserafino@bloomberg.net