Platinum Mines' Pay Offer Falls Short of Strike Demands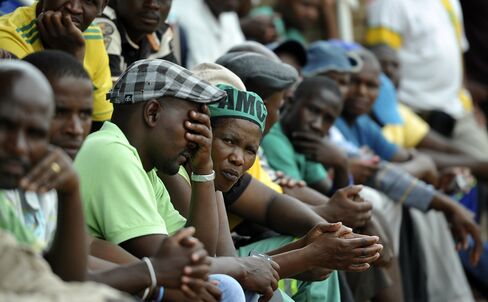 A South African strike that's crippling output at the world's three-biggest platinum producers may spread at Anglo American Platinum Ltd. as a second union plans to walk out of its refineries and smelters.
The National Union of Metalworkers of South Africa will tomorrow issue a notice to down tools, Stephen Nhlapo, Numsa's head of basic metals and energy, said today by phone. The union demands pay increases of as much as 10 percent and a 2,500-rand ($224) raise in the lowest-paid workers' basic wage, he said.
"We're just looking at some legalities and adding the final touches" to the notice, Nhlapo said.
Platinum mining in South Africa, which accounts for 70 percent of the world's supply of the metal, has been curbed by the Association of Mineworkers and Construction Union, which called its members on strike since Jan. 23 at Anglo American Platinum, known as Amplats, Impala Platinum Holdings Ltd. and Lonmin Plc. The AMCU is dominant in platinum with more than 70,000 members and is demanding basic wages to be more than doubled to 12,500 rand.
Numsa is the largest union at Amplats' refineries and smelters, with 1,800 members at those operations, Nhlapo said. The lowest-paid employees get 5,000 rand to 6,000 rand, he said. The refineries and smelters haven't been affected by the AMCU's strike, Amplats said in a statement on Jan. 23.
Offer Rejected
The AMCU today rejected a pay-increase offer of as much as 9 percent and will continue to strike, union President Joseph Mathunjwa said by phone.
"The employer hasn't demonstrated it is serious about our demands," Mathunjwa said. The offer was presented to the union yesterday after three days of negotiation. Talks would continue tomorrow, he said.
South Africa's biggest gold producers won a court order preventing a strike by the AMCU at the country's largest mines for the metal.
Gold employees represented by the union must report for duty, according to an interim ruling by a labor court in Johannesburg today.
AngloGold Ashanti Ltd., Sibanye Gold Ltd. and Harmony Gold Mining Co. agreed in September to an 8 percent raise in wages with the National Union of Mineworkers, which represents the most employees in the industry. The companies argued in court that this pay settlement applied to all workers.
Strike Unprotected
A gold strike held before March 14, when another hearing will be held, would be unauthorized and workers could be fired, the labor court ruled.
"A strike at this time would be unprotected," said Elize Strydom, chief negotiator at the Chamber of Mines, which represents gold-mining companies and brought the application to the court.
The AMCU, which speaks for 19 percent of gold-mining employees, had planned to strike at operations where it is the biggest union, including AngloGold's Mponeng, Harmony's Kusasalethu and Sibanye's Driefontein.
"Our focus will now be making sure that there's peace and stability on the mines, making sure that the message goes through to the members of AMCU that they need to continue working," Strydom said.
The AMCU would abide by whatever the court ruled, Mathunjwa said Jan. 22, following a previous hearing.
Daily Losses
South Africa's platinum industry is losing an estimated $18 million daily, while employees are forgoing about $8 million in wages, the three companies said.
Amplats, Impala and Lonmin offered to raise total pay by as much as 9 percent in the first year, 8 percent in the second and 7.5 percent in the third, they said in a joint statement yesterday.
The NUM, which the AMCU overtook as a majority union at the three largest platinum producers, signed a two-year deal Jan. 21 to end a two-month strike at Northam Platinum Ltd. that included wage increases of as much as 9.5 percent.
"A 12,500-rand basic wage is simply not feasible in the foreseeable future," Anglo American Platinum Chief Executive Officer Chris Griffith said in yesterday's statement.
Before it's here, it's on the Bloomberg Terminal.
LEARN MORE