Lilly Tops Earnings Estimates Despite Loss of Top Drug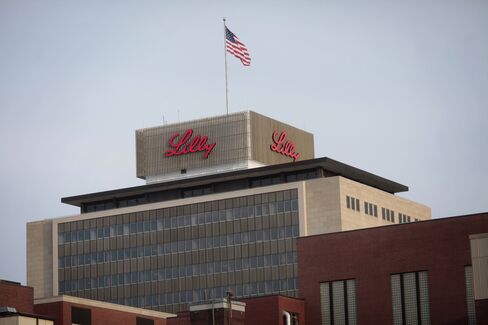 Jan. 30 (Bloomberg) -- Eli Lilly & Co., the drugmaker projected to hit a six-year low in revenue this year, reported profit that beat analysts' estimates as sales gains in other products blunted a decline for its top-seller, Cymbalta.
Fourth-quarter earnings excluding one-time items were 74 cents a share, Indianapolis-based Lilly said today in a statement. Analysts expected 73 cents a share, the average of 12 estimates compiled by Bloomberg.
Sales fell 2 percent to $5.81 billion, compared with the $5.46 billion analysts projected. The company is bracing for declining revenue this year as top-selling treatments for pain and schizophrenia lose market share to cheaper generic medicines. To prepare, the drugmaker has fired workers and reduced costs.
"We haven't wasted the crisis as the old saying goes," said Chief Executive Officer John Lechleiter. "We're more agile. We're leaner. I think we're better operators today. And I believe that will help," he said on a conference call discussing results.
The company's push in diabetes -- where it plans to have a drug in every therapeutic category -- is a large part of its effort to get sales growing again. Generic copycats eviscerated revenue from products such as osteoporosis treatment Evista and Zyprexa for schizophrenia, and Cymbalta, a pain medicine.
Cymbalta Drops
Cymbalta lost patent protection in December, and fourth-quarter sales fell 38 percent to $883 million from a year earlier. Revenue from treatments for diabetes and erectile dysfunction helped make up for that loss.
Net income declined 12 percent to $727.5 million, or 67 cents a share, from $827.2 million, or 74 cents, a year earlier, the company said.
The drugmaker isn't interested in a large merger or acquisition to build sales, Lechleiter said. "On the pharma side, we continue to have no appetite for large-scale M&A," he said.
Lilly fell 1.2 percent to $53.27 at the close in New York. The shares have struggled over the last 12 months, losing 1.6 compared with a 22 percent increase in the Standard & Poor's 500 Pharmaceuticals Index.
"The stock had been in the doldrums for a number of years, partly because of the lack of anything new coming from the pipeline and partly because of its extensive 'patent cliff,'" said Timothy Anderson, an analyst with Sanford C. Bernstein & Co., in an investment note.
Investors should still be wary even with the increased sales of some products, said Alex Arfaei, an analyst with BMO Capital Markets Corp. who has an underperform rating on the stock.
"While the top-line performance seems impressive, we believe it should be interpreted with caution because it was primarily dependent on price increases in the U.S. and some wholesale buying patterns,' Arfaei said in a note to clients. ''We continue to believe that such pricing leverage is not sustainable.''
To contact the reporter on this story: Drew Armstrong in New York at darmstrong17@bloomberg.net
To contact the editor responsible for this story: Reg Gale at rgale5@bloomberg.net