Lunar New Year Dumplings in America, Brought to You by This Korean Manufacturer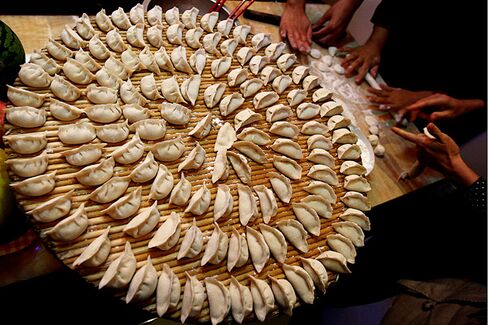 Before the Lunar New Year tomorrow, shoppers in Chinatowns and Asian food markets across the U.S. have been stocking up on holiday staples, which for many celebrants include dumplings. While General Mills' Wanchai Ferry is the biggest name in frozen dumplings in China, the brand isn't sold in the U.S. That's where CJ CheilJedang, a large South Korean food manufacturer that was once part of Samsung Group, sees an opportunity.
CJ CheilJedang—maker of Annie Chun's products and Bibigo-brand dumplings—has two plants in California that together can produce 9,000 tons of dumplings annually. That's enough, the company claims, to give it a market-leading position. And to expand its footprint on the East Coast, CJ CheilJedang acquired 80 percent ownership of three subsidiaries of Brooklyn (N.Y.)-based TMI Food Group in 2012 for $46 million: Chef One (Chinese dumplings, buns, spring rolls); Twin Marquis (Chinese noodles and dumpling wrappers); and distributor TMI Trading.
The U.S. markets for Asian-style dumplings and noodles, by CJ CheilJedang's estimate, are worth about $300 million and $1.3 billion, respectively, and the company has an appetite to own the biggest portion of the trade. "We will not stop in our quest to achieve the globalization of Korean cuisine and our goal to achieve the hallowed mantle of No. 1 Asian food company in the U.S.," Hyun-soo Shin, the company's global food business vice president, said last year.
TMI, founded in New York's Chinatown in 1989 by Hong Kong natives Joseph and Terry Tang, describes itself as one of the country's largest dumpling makers—it produces roughly 40,000 pieces an hour. Revenue from frozen dumplings was about $8.4 million last year, and the company also sells millions of dollars worth of noodles and dumpling wrappers, according to TMI sales and marketing associate Susie Moy.
Shaped like ancient gold and silver ingots and symbolizing wealth, dumplings are a traditional Chinese New Year's food. Moy noted in an e-mail that demand for all products increases by about 15 percent during the Chinese New Year, and dumpling sales typically jump 50 percent during the winter. "We have added another production line to meet demands," she said.
The company hopes for more, too: "We want to make the dumpling as American as the hot dog," TMI's Terry Tang told the New York Daily News.
Before it's here, it's on the Bloomberg Terminal.
LEARN MORE