How I Went to Fiji, Got High on Kava, and Learned to Love Bottled Water
How a drug-fueled journey changed my mind about Fiji's most famous export
The Naroko Fijian School, a single-story, concrete-block longhouse, sits on a hillside above the village of Raiwasa, in a remote province of Fiji. Raiwasa is a poor place, but it has one advantage: It's not far from the Fiji Water bottling plant.
The head of Fiji Water's in-country operations, a jovial man named Rokoseru Nabalarua, pulls up to the school, trailed by a caravan of corporate SUVs. The entire village has gathered to greet us. The company is donating a new well that will tap into the same aquifer that supplies Nicole Kidman and Scarlett Johansson, among others. In other words, free Fiji Water for everyone. A fantasy for the citizens of Hollywood Hills is becoming a reality here.
I step out of the vehicle. Large women garland my head with flowers. The school's principal approaches me.
"Are you the Resnick?" he asks.
"No," I say. "I'm just the Goldberg."
The Resnick in question is Stewart Resnick, the Los Angeles-based tree-nut billionaire who, with his wife, Lynda, owns Fiji Water, along with a healthy percentage of America's pistachio and almond trees. (Lynda, a legendary brand whisperer, is the genius who convinced Americans that pomegranate juice tastes good.) I'm friendly with the Resnicks and told them I'd be passing through Fiji on my way to more distant Pacific islands.
Nabalarua, who is known across Fiji simply as Roko, was assigned to show me the bottling plant. I did not fully understand that I'd first be attending an elaborate well-opening ceremony, or that I'd be mistaken for a member of the Resnick family, or that I'd spend the afternoon ingesting psychotropic drugs. But I'm getting ahead of myself.
Children in grass skirts and face paint surround us. "You are the guest of honor," Roko tells me. "Why?" I ask.
"You are white!" he says, laughing. White, but boiling like a lobster under the equatorial sun.
Roko and I are escorted to the school's main hall and shown to a pair of throne-like seats. The village crowds in. A ceremonial cape is draped across my shoulders. Someone arranges more flowers on my head. I need Allegra very badly. There is dancing and singing and pervasive happiness. The new well is replacing a primitive piping system that brought water to the school only intermittently.
Children enter the hall carrying large wooden bowls. The men—village elders—sit in a semicircle before us. Much chanting ensues.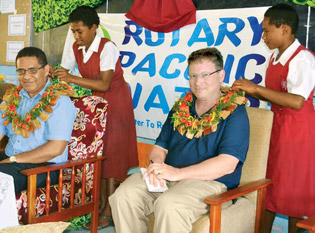 "This is the kava ceremony," Roko whispers. The children are narrating, in song, the making of the beverage. I don't know much about kava (also known as grog), except that it's a narcotic derived from a root common in the South Pacific. It plays a hugely important social role in Fiji. It is to Fiji what khat is to Yemen, except without the automatic weapons. The kava root is ground with a mortar, mixed with water, and then poured into bowls. "When you are handed the bowl," Roko says, "you clap your hands, drink the entire bowl, hand the bowl back, and clap twice."
"What if I don't want to drink it?"
Roko says, "Everyone is watching."
A linebacker-size man in a maroon skirt brings me a bowl. I've subsequently seen videos in which tourists are brought petite bowls of kava to sip; mine was a Clifford the Big Red Dog bowl. The kava concoction is brown and a bit gluey. Down she goes! It's like licking a mud puddle. The men praise me in song, apparently for not throwing up.
Soon, I can't feel my tongue.
"I can't feel my tongue."
"Yes!" Roko says. "Kava will make your head go to sleep."
"I can't feel my lips, either," I say. Roko nods. Another bowl is presented. I drink reluctantly.
After the third round, I notice that my feelings about kava, and about Fiji, and about the choices I have made in my life, begin to change. I am very relaxed and filled with contentment. I would like to take a nap and also ride a jet ski.
After the fifth bowl, Roko looks at me with concern. "Now it's time for your speech."
"Speech?"
"Yes," he says.
"But I can't feel my face," I say.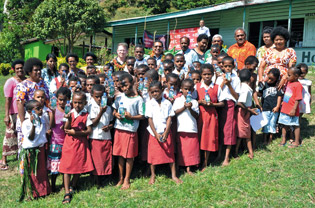 "Give them a message from the Resnicks." I am fairly anesthetized, but I deduce that this might be a bad idea.
I will speak, I decide, on the importance of water. I stand, the floral cape flowing behind me. I don't have much control over my tongue, but the audience seems receptive. Without water, life as we know it would cease to exist! Without water, children could not learn! God has blessed Fiji with delicious water! I continue to speak on this general theme for perhaps 10 minutes, until Roko whispers from his seat that maybe it's time to wrap things up.
We go over to formally open the well. I am asked to do the honors, because my speech was evidently a great success.
I turn the spigot. The children cheer. I am very happy for them. We make our way to the cars, and Roko says, "Let's go up the mountain and look at trees." This sounds like something a person who is high would say, but he actually wants to show me the reforestation efforts the company is making.
The trees are very lovely. That is all I remember.
My head begins to clear by the time we reach the bottling plant. It's an incongruous sight, a gleaming white factory in a lush, undeveloped valley. The facility is thoroughly computerized and as clean as a surgical suite. This is to preserve both the reality, and the marketing promise, that Fiji Water is untouched by human hands.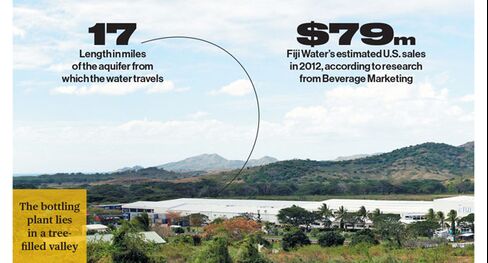 Roko walks me through a list of what he describes as the company's good deeds. Fiji Water employs 254 people in Fiji, paying salaries significantly higher than the country's average wage. It has opened more than 100 village wells and plans to open several dozen more this year. It also funds the preservation of the Sovi Basin, the country's largest and most ecologically fragile rain forest.
The company won't say how much it pays in taxes each year, but two people in Fiji tell me it's more than $20 million. Fiji Water is this very small country's second-largest export after a far more harmful product, sugar. It's also a key part of its tourism marketing. Every bottle of Fiji Water is a kind of 3D travel brochure.
Of course, the entire bottled water industry is preposterous. Shipping drinking water from one country to another is absurd—I'm looking at you, too, Perrier and Evian and San Pellegrino. And the bottling of "purified" tap water, which makes up, by some accounts, 40 percent of the $14.2 billion bottled water business, seems particularly ridiculous. (Fiji Water represents about 1 percent of the bottled water market by volume; the biggest players are Nestlé, Coca-Cola, and Pepsi.)
Here's what Fiji Water has going for it: It tastes better than other water. This is just one man's opinion, though I am a very well-hydrated man. Fiji Water has a high silica content, which gives it its soft mouthfeel, and it's filtered through seemingly endless layers of volcanic rock. Its true saving grace, however, is that the aquifer from which it's drawn is self-sustaining: As long as it continues to rain on Fiji, there should be sufficient water.
I tell Roko a bit about the loathing environmentalists feel for bottled water. I also note specific criticism of Fiji Water, in particular that the country is under military rule; moneymaking exports thus benefit a nondemocratic government. Roko's not moved. "We have jobs here because of one of our country's natural resources," he says. "This is good for us."
Normally, I'd argue with him just for the sake of arguing. But I am so enervated and so weirdly relaxed that I simply want to hug people and go to sleep.
Roko asks me if I'd like to go see some more trees the next day. There will be, he says, more kava. Although I'm tempted, I tell him I'll stick to water from now on. I would, however, like to keep the cape.
Before it's here, it's on the Bloomberg Terminal.
LEARN MORE