Basci No Rebel as Elections to Dictate Turkish Rate Moves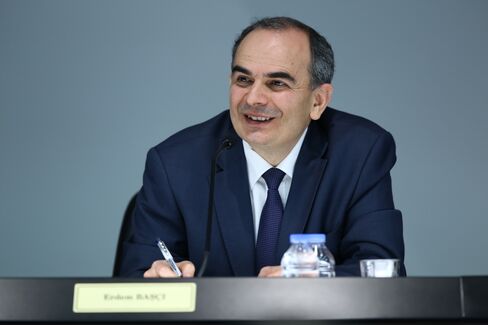 Jan. 31 (Bloomberg) -- It took a run on the Turkish lira for Central Bank Governor Erdem Basci to bring Prime Minister Recep Tayyip Erdogan onside, for now.
Basci, 47, surprised investors when at an emergency policy meeting on Jan. 29 he more than doubled his main interest rate and abandoned a set of tools that had kept borrowing costs low. The premier, who took power in 2003 after a currency crisis and economic collapse helped his party rout opponents at elections, said he's willing to give Basci's decision time to succeed even while he remains opposed to higher interest rates.
Basci's move marked a turnaround for the former associate professor in economics at Ankara's Bilkent University, who had failed to arrest a lira sell-off a week earlier when he dodged raising the benchmark measure. If Basci attempts a repeat, the man who nominated him for the job may not be so understanding.
"The political costs of rate hikes are increasing exponentially," Abbas Ameli-Renani, emerging-markets strategist at Royal Bank of Scotland Group Plc in London, said in an interview. Unless investors force his hand, Basci is unlikely to raise the main policy rates again soon, he said. The central bank declined to comment when contacted yesterday by phone and e-mail.
For the government, the stakes are high. Basci's supporters and his critics agree on one thing -- the policy shift risks further slowing growth in Turkey's economy, Erdogan's trump card in successive election wins, in a year when the ruling party must contest two key ballots.
Babacan Adviser
It was after the first electoral triumph of Erdogan's Justice and Development Party in 2002 that Basci started working as an adviser to now-Deputy Prime Minister Ali Babacan, a cabinet minister then and a personal friend of the governor. He joined the central bank as deputy governor in 2003, and served as acting governor for more than a month in 2006 as the government searched for a permanent replacement for the departing chief.
It was another five years before Basci, who received a masters degree in economics from Johns Hopkins University in 1993, was given charge of the bank. He took the helm at a time when Turkey was awash with capital inflows from foreign investors and the economy was growing at an annual rate of almost 9 percent.
Growth prospects for this year don't even come close. After this month's currency sell-off and the increase in interest rates, the economy may expand 1.9 percent in 2014, according to JP Morgan Chase & Co., which revised its estimate down from 2.5 percent on Jan. 29.
Lost Credibility
While the central bank is independent under law, the currency crisis has highlighted how government pressure undermined the bank's autonomy. Instead of raising benchmark borrowing costs on Jan. 21, the governor chose to add a new interest rate, one day after Economy Minister Nihat Zeybekci warned against tighter policy.
"The credibility lost can't be regained with one monetary policy decision," Ameli-Renani said by phone. "It was the extent of the currency's weakness which changed the political calculus in favor of rate hikes. The economic argument was already there."
Basci raised the one-week repurchase rate to 10 percent from 4.5 percent. Investors should treat that as the benchmark, the Ankara-based bank said on its website, promising to "simplify" policy after an experiment in using a variety of rates left many analysts baffled.
Lira Moves
The lira initially appreciated 4 percent against the dollar after the decision, before resuming its decline Jan. 29. It weakened 0.4 percent to 2.2772 per dollar at 2:19 p.m. in Istanbul today, making it the second-worst performer over 12 months among 31 major currencies tracked by Bloomberg.
The crisis comes amid a graft probe that has ensnared cabinet ministers and allies of Erdogan, as well as a global sell-off in emerging markets currencies.
In a speech on Jan. 28 in Ankara, Basci said remarks by cabinet ministers about monetary policy are "not a problem within the framework of Turkish culture." In other nations, "this is perceived as a problem. I think this culture will change over time," he said.
The debate about the independence of his office isn't new.
In August, 2011, Basci unexpectedly cut interest rates to shield the economy from the effect of the European debt crisis. Yavuz Canevi, head of the central bank from 1984 to 1986, said policy makers may have been under "physiological" pressure from the government.
Accepting Reality
Charles Robertson, chief economist at Renaissance Capital in London, said Basci wouldn't have taken this week's decision without Erdogan's consent. "Erdogan is accepting market reality," he said by phone. "It doesn't mean he has to like it."
And with local elections due in March, the governor is likely to consider employing other tools than an increase in his main rates if further action is needed, said Philippe Dauba-Pantanacce, senior economist for Turkey, Middle East and North Africa at Standard Chartered Plc in London.
"It's difficult to imagine that the central bank would hike rates again before the elections," he said by e-mail.
Instead, Basci may tighten access to credit by pushing up the cost of funds it provides to lenders, said Nihan Ziya-Erdem, an economist at Turkiye Garanti Bankasi AS in Istanbul. The cost of funding is now at 9.26 percent.
Above all, policy makers have to hang together and convince investors there's no sense of panic, said Nicholas Spiro, managing director at Spiro Sovereign Strategy in London.
"The market senses blood, weakness," he said by phone. "What do Basci and the central bank do? They have to hope and that's all that they can do," he said. "Unfortunately it's unlikely that the market is going to leave Turkey alone."
To contact the reporters on this story: Alaa Shahine in Dubai at asalha@bloomberg.net; Onur Ant in Ankara at oant@bloomberg.net
To contact the editor responsible for this story: Andrew J. Barden at barden@bloomberg.net