A Guerrilla Stock Analyst Plays Mystery Shopper at Sears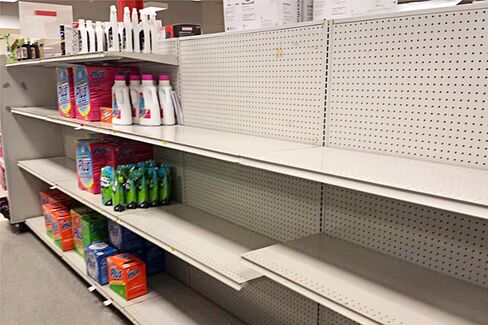 Come see the shlumpy side of Sears. And if the one nearest to you—try checking whatever stale mall looks most like the location of the shootout in Back to the Future—turns out to be closed already, fear not: Analyst Brian Sozzi of Belus Capital Advisors will ply you with all sorts of unflattering photos of Sears and sister store Kmart on your social media platform of choice.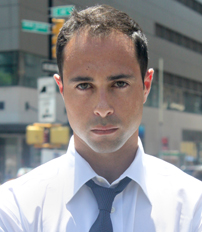 Sozzi has been stalking the sales floors and publishing photographs of their sloppiest countenances. His work includes tableaux of empty shelves, overstocks of completely unrelated products in shuttered departments, and mannequins facing inward, half naked and seemingly ashamed. In October he called out, with incriminating photos, a Kmart store with exposed battery acid on the floor in one of its aisles; the mess was cleaned up two weeks later. "Seeing that," Sozzi says, "made my day, as it brought real change to a store that mom took me to as a kid for school clothes."
It's little secret that Sears Holdings, like Somalia, is a failed state. Read this account from last year of Chairman Eddie Lampert's management style at the 120-year-old retailer, which is mired in red ink on a companywide 7.4 percent plunge in sales at stores open at least a year in the quarter through Jan. 6. Capital spending lags and inventory is uneven. You can only buy so many Kenmore washer-and-dryers. Sears is finally throwing in the towel on its money-losing namesake store in downtown Chicago.
According to Bloomberg data, just six Wall Street analysts still cover Sears Holdings, with five rating it a sell and one a hold. That's downright unheard-of in the usually Pollyannaish world of sell-side research. What more can you possibly say about this experiment in financial and real estate engineering gone horribly awry?
Sozzi, 30, says he's redefining what an analyst can and should be in the crowdsourced age of social media, where everyone with a smartphone can be a valuable, motivated contributor to real-time company analysis. "Clients," he says, "have coined me the 'activist analyst' in the business of providing guerrilla investment research. The way I like to look at it, I'm doing investment research and guidance differently given the quickly evolving world."
Sozzi argues that it's no longer acceptable to issue an analytical assessment on a stock based solely on historical price-earnings multiples and discounted cash-flow analysis. That has been a commodity, loss-leading service for the investment banks ever since the dot-com bubble burst and Wall Street agreed, in theory, to erect a wall between its analysts and dealmakers. At any rate, it has been forever since analysts could brazenly cozy up to executives for privileged material information to pass to clients. In August 2000, the U.S. Securities and Exchange Commission adopted Regulation FD to force issuers to disclose material nonpublic data to all, and at once. The ranks of Wall Street analysts have been culled ever since.
"There are real-time discussions happening on Twitter, Instagram, Facebook, and Vine on public companies ranging from Wal-Mart to Caterpillar to Starbucks that deserve to be sourced to see if there are positive or negative surprises in the future financial results of these publicly traded entities," Sozzi says. "There is new technology to help prove or disprove stories on a company found in minute areas of the financial statements or in our conversations with executives."
He's especially gratified by how Sears and Kmart shoppers have responded on Twitter, where he hangs a shingle @BrianSozzi and has some 7,000 followers. "There is almost an anger in their tweets, as if to say: 'We work hard for our money, we grew up going to Sears and Kmart, but now you are just not treating us with respect.'"
Sozzi has also tormented publicly traded dollar stores, highlighting sketchy parking lots and disengaged workers, as well as Starbucks, where he says he learned food was running out of stock due to cooler and display sizes not being big enough and sales getting hit by baristas and cashiers toggling between serving customers and heating new food offerings. All of which, he says, showcases "the voice of the people in real time."
Fighting the power and amplifying vox populi is all fine and kosher, but Belus Capital is no nonprofit better-retail advocate. Sozzi charges an annual fee for his research. As of Jan. 13, Belus Capital has been included as a member of the Wall Street consensus, with his research available for purchase from Thomson/StarMine after clients receive it. Sozzi has also been approached to undertake specific, shoe-leather research in the field to supplement client needs.
And his clients seem to appreciate the extra effort. "Brian's done a phenomenal job of boots-on-the-ground research there, as well as at Wal-Mart and J.C. Penney," said Kimberly Thomas of JPMorgan in an e-mail. She said that the unusual fieldwork can "bring life to a stock and its potential as a long or a short in many cases before the Street discovers and includes them in their analysis."
Chris Brathwaite, a spokesman for Sears Holdings, declined to comment for this story, and Sozzi says the company has never reached out to him directly despite his gadfly conduct.
Sozzi insists he can help the fading brand near and dear to his childhood—if management is willing to accept his unusual overture. "My outstanding offer remains: I openly invite the executive team at Sears Holding Corporation to walk 15 Sears and Kmart stores of my choice to begin a dialogue on what is wrong and how it could be fixed, if they are inclined to invest to fix the problems," the analyst says. "My view is that Sears is seeking to slowly liquidate itself by closing stores to raise cash and sell off numerous assets."
Before it's here, it's on the Bloomberg Terminal.
LEARN MORE