To Meet President Obama's Jobs Goal, Involve All Colleges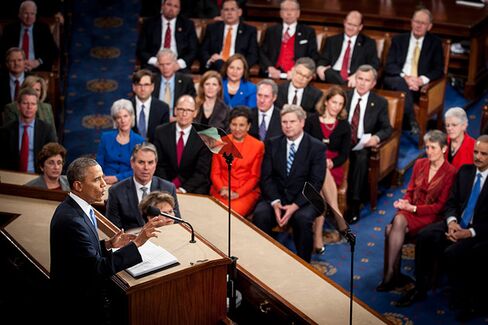 In last night's State of the Union address, President Obama announced a new effort to help Americans get "the skills employers need and match them to good jobs that need to be filled right now" by increasing apprenticeships and community college training programs.
The president is absolutely right to focus on using higher education to increase employment. If we really want to make progress, however, he needs go to beyond the steps he outlined. All types of colleges and universities will need to be involved—and they'll have to adjust to two seismic shifts in the landscape of higher education.
The "traditional" college student aged 18 to 22 is no longer the norm. Many people still think that the typical college student is an 18- to 22-year-old who's attending a four-year residential institution. But according to some estimates, nontraditional students—returning adults, part-time students, midcareer professionals, and every other permutation of learner—now make up 85 percent of all undergraduates. The exploding numbers of such new students is what I call "the rise of the rest."
This broadened demographic—more so than traditional college students—wants results for their educational investment. Instead of tailoring their expectations to an existing curriculum, they want a curriculum that's tailored to them. Rigid class timetables and limited office hours with professors make no sense to students who see nothing unnatural in 24-hour, on-demand lectures and instant academic counseling, which online and hybrid programs now make possible.
Learning breakthroughs that respond to the needs of this new student population are critical to producing better results, including higher employment. These innovations deliver learning that serves a student's educational, career, and life aspirations instead of an academic checklist. For example, experiential learning integrates classroom learning with professional experiences in workplaces around the world—helping students discover what they're good at and what they love. Adaptive learning molds lessons to the student's individual progress, so the education fits the learner. Competency-based education allows students to gain credit for existing knowledge and skills—wherever they learned them—and to master material at their own pace. All these models are showing strong promise in increasing college completion as well as post-graduation employment.
Technology is a part of some of these breakthroughs, but it's the means, not the end. The common thread among these approaches is that they provide a customized education responsive to students' individual needs. They're shifting us away from the teacher-centered model of the past to a learner-centered model today.
President Obama spoke last night of the need for value in higher education. That value was never lost. During the global recession, the unemployment rate for U.S. college graduates never reached 5 percent, while it averaged 10 percent for those with only a high school education. According to the Bureau of Labor Statistics, workers with a bachelor's degree see a 62 percent jump in median earnings above those who just graduated from high school. A national survey commissioned by my university found that three-quarters of Americans believe that having a college degree is more important today than it was for their parents.
Colleges, of course, shouldn't rest on their laurels. The changes in the higher education landscape—the changing student population and learning breakthroughs—offer colleges an opportunity to shift to a personalized, student-centered model that will produce better outcomes for graduates, including more high-quality jobs.
We serve an extraordinarily diverse student market, but it's unified by a demand for responsiveness and results. Universities that satisfy this demand will flourish. Ones that don't will disappear.
Before it's here, it's on the Bloomberg Terminal.
LEARN MORE