Soros-Backed OneWest Said to Seek Buyers as It Prepares for IPO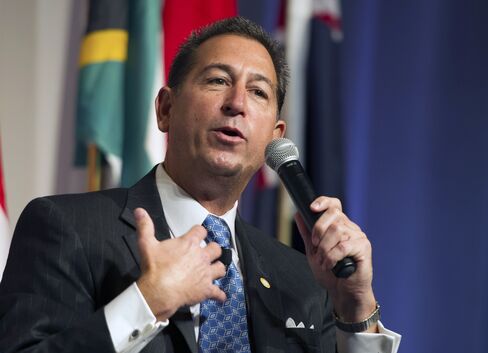 OneWest Bank FSB, the lender backed by John Paulson and George Soros, is working with Goldman Sachs Group Inc. to find a buyer as it also prepares for an initial public offering, people with knowledge of the matter said.
OneWest, which was known as IndyMac Bancorp Inc. before its 2008 failure, has begun reaching out to potential buyers and plans to solicit bids in the next two months, said the people, who asked not to be identified because the matter is not public. If it cannot find a buyer it will file for an IPO, possibly in the second quarter, the people said.
The lender had $3.8 billion in tangible equity at the end of September, filings show. At that size, its acquisition would be the largest of a U.S. Bank since Capital One Financial Corp. acquired ING Groep NV's online lender for $9.1 billion in 2011, according to data compiled by Bloomberg. With U.S. regulators wary of letting lenders grow too large, takeovers by banks in the country have stalled since the credit crisis.
OneWest held sale talks with UnionBancal Corp., U.S. Bancorp., and New York Community Bancorp Inc. in 2013, people familiar with the matter said last year. After it was unable to find a buyer, the lender began preparing for an IPO, the people said. Its owners would prefer exiting their investment in a sale, the people said.
Spokesmen for Pasadena, California-based OneWest and New York-based Goldman Sachs declined to comment.
Paulson, Soros
IndyMac, which made mortgages to people without verifying their income, was the second-largest U.S. bank failure on record behind Washington Mutual Inc., according to the Federal Deposit Insurance Corp. OneWest Chief Executive Steve Mnuchin, a former Goldman Sachs executive, raised $1.55 billion to acquire IndyMac from the FDIC in 2009.
The group that bought the bank included Paulson, Soros, Dell Inc. founder Michael Dell and J. Christopher Flowers, founder of buyout firm JC Flowers & Co., according to filings. OneWest, which has acquired two other failed lenders in California since it was established, had assets of $24 billion at the end of September, up from $16 billion in 2009.
OneWest paid a $500 million dividend to its backers in 2012 and plans to pay out another $1 billion dividend in 2014, people familiar with the matter said last year.