Sochi Lockdown Prompts Russia to Ask Guests for Olympic Patience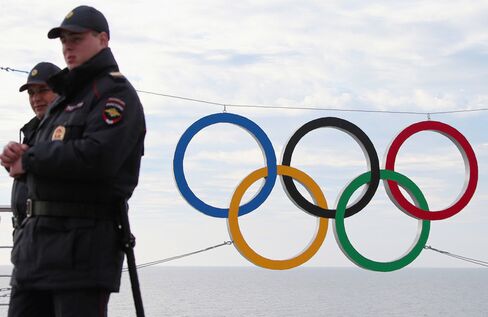 Russia's Olympics chief urged visitors to show tolerance for the measures in place to keep them safe as the country hosts its first Winter Games.
"The more security, the better it is," Russian Olympic Committee chief Alexander Zhukov said in an interview this week. Control zones are spread out to avoid creating lines, he said.
Concerns about safety during the games, which start Feb. 7, intensified after two suicide bombings killed more than 30 people last month in the southern city of Volgograd. President Vladimir Putin, seeking to ensure the $50 billion Olympic project showcases Russia, has deployed 40,000 police and special services troops in Sochi, sealing off the Black Sea resort area on Jan. 7.
"The atmosphere isn't much different from other games, with two security cordons, maybe a need to take off your shoes, nothing unusual," said Zhukov, who is also a first deputy speaker in Russia's parliament. "Everyone understands these measures must be tolerated."
Putin faces criticism about Russia's ability to protect visitors to the games. Russian forces have stepped up operations in the volatile North Caucasus. Some regions have been riven by almost daily attacks by Muslim extremists since two separatist wars in Chechnya that followed the collapse of the Soviet Union.
The Australian Olympics Committee told its athletes not to travel in Russia outside the city, while the U.S. Olympics Committee has warned its team members not to wear their uniforms outside the venues. Still, with all the attention, Sochi itself may be "the safest place on earth," the Swiss Ski Federation said.
Russia, which is sending 223 athletes to the Games, is not planning any special step to protect the team, Zhukov said.
"The security measures in Sochi will be sufficient and won't ruin the fans' mood," Zhukov said.
Before it's here, it's on the Bloomberg Terminal.
LEARN MORE