Reid Says He Opposes Renewing Fast-Track Trade Authority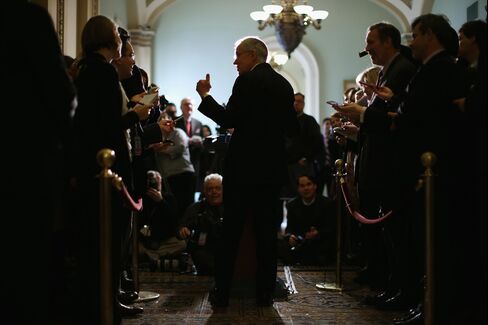 Senate Majority Leader Harry Reid said he opposes legislation to speed approval of trade deals, rejecting a top goal of U.S. exporters a day after President Barack Obama called for it in his State of the Union address.
"I'm against fast track," Reid told reporters in Washington today. Asked whether he would block a floor vote on such a measure, he said, "We'll see." He said the Obama administration and top Senate Democrats are aware of his position.
"Everyone would be well-advised just to not push this right now," said Reid, a Nevada Democrat.
Max Baucus, chairman of the Senate Finance Committee, earlier this month introduced bipartisan legislation that would enable approval of trade deals in Congress without amendments. Obama made his push for fast-track authority as the U.S. works to complete trade agreements with the European Union and Pacific nations.
"We need to work together on tools like bipartisan trade-promotion authority to protect our workers, protect our environment, and open new markets to new goods stamped 'Made in the USA,'" Obama said in his address last night. "China and Europe aren't standing on the sidelines. Neither should we."
Election Timeframe
U.S. corporations including Caterpillar Inc. and Boeing Co. are pressing for passage of the bill before campaigns distract lawmakers running in the November elections. Obama's mention of the matter follows months of criticism from business groups and Republicans in Congress who said he wasn't pushing hard enough on it.
The issue poses a political dilemma for Reid and other Democratic leaders. Many Democrats -- and the majority of them in the House -- oppose renewing the authority because they say the trade deals could hurt U.S. workers. Bringing up the matter risks expanding the intra-party rift over free trade and U.S. jobs, just as the party seeks to make income inequality an issue in November.
The Obama administration is seeking authority to smooth congressional passage of trade deals, including separate accords being negotiated with a group of 11 other Pacific-region governments and the 28-nation European Union. Those pacts would create the world's largest free-trade zones, linking regions with about $44 trillion in annual economic output.
Reid's Record
Reid voted against fast-track authority renewal in 2002, the last time it moved through Congress. He also voted against free-trade agreements with Korea, Colombia and Panama in 2011.
When asked about the pending measure on Jan. 14, Reid quickly cut off a reporter.
"No, no, no," he said. "There's a lot of controversy on that, and I'm going to see how that plays out with my caucus and with the Senate."
Baucus's effort was already hitting snags. He's been nominated to be the next U.S. ambassador to China and his expected successor, Democratic Senator Ron Wyden of Oregon, said this week that he isn't prepared to back Baucus's measure. Wyden said he wants to ensure that any fast-track legislation include strict provisions on digital trade, labor and the environment.
In the House, Democrats already are lining up against fast-track authority. In November, 151 Democrats sent a letter to Obama criticizing the idea. Representative Sander Levin of Michigan, the top Democrat on the Ways and Means Committee that oversees trade policy, says he'll lead the opposition to the Baucus legislation.
'Broad Opposition'
"This just demonstrates the broad opposition" to the legislation,'' Representative Rosa DeLauro, a Connecticut Democrat who signed the November letter, said of Reid's comments on a call today with reporters. "It may be that people are beginning to listen to their constituents."
Senator Orrin Hatch of Utah, the top Republican on the Senate Finance Committee and a co-sponsor of the fast-track legislation, said today that the U.S. probably won't ever participate in the trade pacts unless the president gets the speedy negotiating authority.
"In truth, it will be virtually impossible for the administration to conclude these agreements without" fast-track authority, Hatch said at the U.S. Chamber of Commerce.
Before it's here, it's on the Bloomberg Terminal.
LEARN MORE