Bundesbank Says SEPA Delay Risks EU Commission Credibility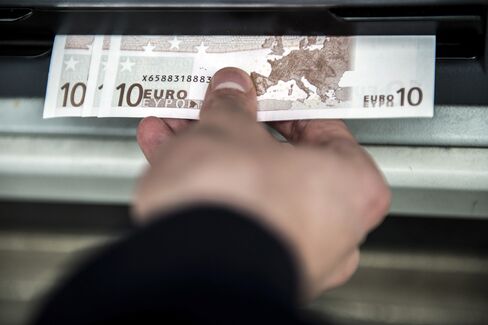 The European Commission risks undermining its credibility with its proposal to extend a deadline for harmonizing cross-border payments, Bundesbank board member Carl-Ludwig Thiele said.
"The move won't reinforce credibility in the reliability of European decision-making," Thiele, 60, said in an interview in Frankfurt yesterday. "Looking at the actions of the commission, the users of payment services still neglecting the Single Euro Payments Area could hope for another extension."
The commission proposed a six-month transition to harmonize payment systems in the European Union and five other countries, arguing in its Jan. 9 statement that the low pace of migration in parts of the SEPA before a Feb. 1 deadline may trigger "potentially severe consequences" for companies and households. The European Central Bank countered that the vast majority of stakeholders will complete the transfer in time.
"This extension was not an ideal scenario, it was not what we wanted, but it was necessary," Chantal Hughes, a spokeswoman for EU financial services chief Michel Barnier, said in an e-mailed statement. "Although migration rates increased, we were far from full migration in many member states as all figures showed. The Commission would have been amiss if it didn't exercise its responsibilities."
No Surprise
Almost three-quarters of credit transfers and more than 40 percent of all direct debits in the euro area were SEPA-compliant at the end of December, ECB data show. Banks, public administrations and companies have successfully completed preparations in Finland and are expected to finish by Feb. 1 in all euro-area countries except France and Luxembourg, where small and medium-sized enterprises are unlikely to be ready for the new standards.
"It's not a surprise that has appeared in the past weeks that the migration to SEPA poses technical challenges; this was already known at the end of 2011 and early 2012," Thiele said. "Everybody wanted the change to reduce costs in Europe in the long run and to make payment transactions more competitive, with enormous advantages for the economy and the consumer."
After the single currency was created in 1999, banks created SEPA in response to pressure from the ECB to introduce common payment standards and make them as simple as using banknotes. While costs of cash withdrawals and money transfers were already harmonized in 2002 and 2003, lawmakers agreed in March 2012 to set the start of next month as the deadline for streamlining all bank transactions in the region.
'Significant Costs'
The delay "could mean significant costs for some companies, especially banks, which developed conversion services and signed contracts with customers to offer them," Thiele said. "Those services are now void."
The commission pushed for the European Parliament and the Council to adopt the proposal "as a matter of urgency." If it gets its way, new rules will be enforceable from Aug. 1.
"One can live with the situation," Thiele said. "With the proposal by the commission, pressure has been eased. But the way it was communicated was a bit curious and hardly conclusive."