Copper Heads for Longest Slump in 15 Months on Economy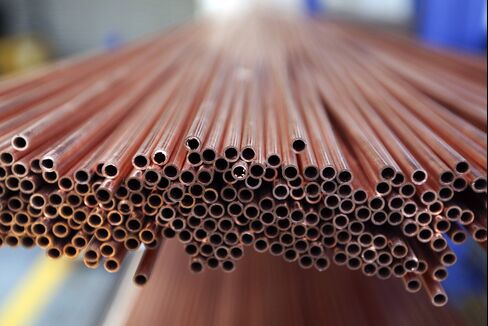 Copper futures fell, capping the longest slump in 15 months, on speculation that rising borrowing costs in emerging markets will damp economic growth, eroding demand for industrial metals.
The South Africa Reserve Bank unexpectedly increased its benchmark interest rate, following central banks from Turkey to Brazil. Countries tightened monetary policy to bolster their currencies. A gauge of global equities approached the lowest in six weeks, while aluminum, nickel, zinc and lead dropped.
Copper has dropped 12 percent in the past 12 months, partly as economic growth eased in China, the world's largest user. Global production will outstrip consumption by 167,000 metric tons this year, following a deficit of 137,000 tons in 2013, Barclays Plc has said.
"More problems in emerging markets are going to limit the demand for copper," Michael Smith, the president of T&K Futures & Options Inc. in Port St. Lucie, Florida, said in a telephone interview. "Some people think anytime a country has to raise interest rates just to keep money there, that means there's something wrong."
Copper futures for March delivery fell 0.4 percent to settle at $3.2405 a pound at 1:18 p.m. on Comex in New York. The metal dropped for the sixth straight session, the longest slump since Oct. 29, 2012.
The Federal Reserve will probably reduce monthly bond purchases by $10 billion to $65 billion, according to a Bloomberg survey of analysts. The U.S. is the second-biggest copper consumer.
Taper 'Worry'
"The worry is whether taper will continue to put pressure on emerging markets and thereby slow growth there," said Ole Hansen, the head of commodity strategy at Saxo Bank A/S in Copenhagen. "Continued taper from the Fed is a sign of continued improvement in the economic outlook, which ultimately is good for copper."
On the London Metal Exchange, copper for delivery in three months fell 0.2 percent to $7,127 a ton ($3.23 a pound).
This month, a gauge of the six major metals on the LME has declined 2.7 percent, heading for the biggest drop for a January since 2010.