Citigroup Expands in Europe Energy Markets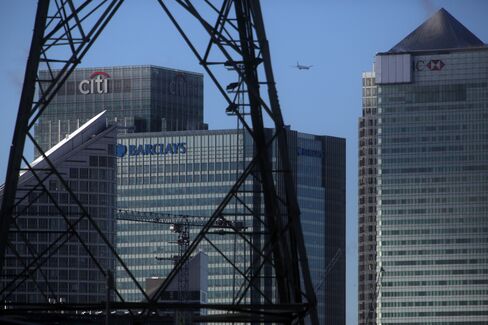 Citigroup Inc. is increasing its gas and power business in Europe as competitors from Bank of America Corp. to Deutsche Bank AG withdraw amid tighter regulation and staff cuts at utilities.
The third-largest U.S. bank expanded its trading team in Europe last year while other firms cut headcount, Stuart Staley, global head of commodities, said in a phone interview from London. His group now employs 10 people in power and gas trading and sales in the region. Citigroup will boost its commodity sales staff by 15 percent from the 80 people it has now, Jose Cogolludo, head of sales in New York, said last month.
Companies from Bank of America to Deutsche Bank AG and Morgan Stanley shut European power and gas trading units in the past two years as regulators seek to toughen financial market rules and curb speculation. EON SE and RWE AG, Germany's two largest utilities, cut staff in 2013 after profits fell 63 percent and 53 percent, respectively, from 2010 through 2012 amid a slump in power prices and profits at plants burning gas and coal.
"We continue to see opportunities in the European utilities sector, as the risks that the participants need to manage are only increasing" even as they reduce operations because of financial pressures, Staley said.
EON, based in Dusseldorf, Germany, cut staff at its global commodities trading unit by 33 percent to 1,468 as of Sept. 30. Essen-based RWE plans to cut about 10 percent of its workforce after forecasting in November that its profit this year will drop by almost half.
Liquidity Needed
As other traders withdraw from the market "the need for banks as hedging counterparties is increasing," said Staley, Citigroup's global head of commodities since 2010, on Jan. 15. Companies hedge using futures contracts to guarantee a price and protect themselves against market fluctuations.
"Liquidity needs to remain high for the market to function," said Gary Hornby, a European power and gas market specialist at Inenco Group Ltd. in St. Annes, England. "If both utilities and banks scale back, trading will dry up."
Citigroup also sees an opportunity in Europe to help utilities divest of non-performing assets as their balance sheets come under pressure, Staley said.
RWE said yesterday it expects to write down the value of its European power generation assets by 3.3 billion euros ($4.5 billion) because of deteriorating 2013 earnings.
U.S. Cuts
Citigroup began to trade European power and gas in 2007 and its commodity teams employ about 250 people, said Staley. The bank reduced total headcount last year after cuts in its U.S. power and gas business, he said, without providing further details.
Morgan Stanley last year exited power markets in Bulgaria, Czech Republic and Poland. The New York-based bank has about 15 traders for European power and gas, it said today. Morgan Stanley's London-based commodities team agreed to supply Spark Energy Ltd. with power and gas, the Selkirk, Scotland-based energy supplier, said Jan. 22 on its website.
Deutsche Bank fired 10 to 12 European power and gas traders in December 2012 as it reduced trading in physical commodity markets, two people with knowledge of the matter said.
Regulators have since the financial crisis in 2008 drafted new rules to improve transparency and reduce systemic risk in derivatives markets across all asset classes. The European Commission, the region's executive arm, imposed a requirement in 2012 for all over-the-counter derivatives transactions to be guaranteed through a central clearing house to cut risk. The European Union agreed on Jan. 14 to impose size limits on commodity trade positions to reduce speculation.
"Regulation is a huge part of the business these days. It's a significant time and resource requirement," said Staley.
Geneva Office
Bank of America cited "recent regulatory changes" when it announced on Jan. 7 it was withdrawing from Europe's power and gas markets. JPMorgan Chase & Co., the biggest U.S. bank by assets, is closing its energy-trading business in Geneva, a person with direct knowledge of the matter said in November.
Revenue from buying and selling commodities at the 10 biggest banks fell 18 percent to $4 billion in the first nine months of 2013, Coalition Ltd., a researcher in London, said this month.
Goldman Sachs Group Inc., Macquarie Group Ltd, Societe Generale SA and Barclays Plc are all members of the Leipzig, Germany-based European Energy Exchange AG. The biggest bourse for German power trading last year added UniCredit Bank CZ, Raiffeisen Bank International AG, Biw Bank AG and Macquarie as members providing clearing services for clients.
"Some banks are actually increasing and expanding their activity in our markets," Peter Reitz, the bourse's chief executive officer said Jan. 23 in an interview in London. "It's not scaling back across the board."
Before it's here, it's on the Bloomberg Terminal.
LEARN MORE