Canon Forecast Misses Analyst Estimates Amid Camera Slump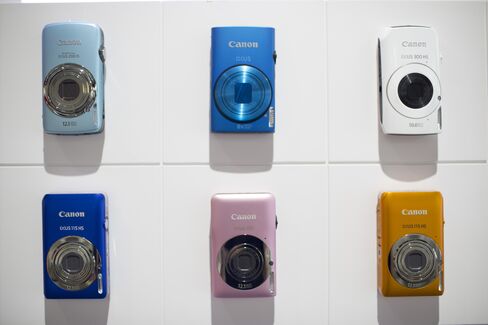 Canon Inc.'s forecast for annual net income missed analyst estimates as the world's largest camera maker stumbles amid slowing demand.
Net income will probably total 240 billion yen ($2.3 billion) in 2014, the Tokyo-based company said in a statement today. That's less than the 267 billion yen average of 22 analyst estimates compiled by Bloomberg.
Smartphones and tablet computers are adding sophisticated lenses and sensors, eroding demand for Canon's PowerShot compact models and EOS high-end sets and leading to the first annual drop in shipments of single lens reflex models. The company is promoting cost cuts as it seeks to expand businesses such as medical imaging to sustain profit growth.
"Within the digital compact camera market, projections point to market contraction, mainly among low-end models, due to the popularity of smartphones," Canon said in an e-mailed statement.
Canon rose 0.7 percent to close at 3,070 yen in Tokyo trading today before the announcement, trimming its loss this year to 7.8 percent. The stock slid 0.3 percent in 2012, while Japan's benchmark Topix index advanced 51 percent.
The value of worldwide camera shipments dropped 22 percent in the January to November period from a year earlier, according to the Camera & Imaging Products Association in Tokyo. Compact models tumbled 33 percent, while cameras with interchangeable lens slid 12 percent.
Slumping Compacts
Revenue may rise 3.2 percent to 3.85 trillion yen this year, Canon said. That compares with the 3.86 trillion yen average of four analyst estimates compiled by Bloomberg. Operating profit, or sales minus the cost of goods sold and administrative expenses, will probably gain 6.7 percent to 360 billion yen, compared with the 398 billion yen average of analyst estimates.
Canon expects to sell 7.6 million single-lens reflex cameras in 2014, which is 50,000 fewer than last year, while sales of compact models are forecast to drop 20 percent to 10.5 million units, the company said.
The office products division, which generates about 50 percent of sales, will probably post a 5.7 percent increase in revenue while sales in the camera segment will probably fall 4.2 percent, it said.
For the quarter ended Dec. 31, Canon posted net income of 64.3 billion yen compared with the 65 billion yen average of six analyst estimates.
The maker of the PowerShot cameras, which generated about 81 percent of sales outside Japan last year, based its annual forecasts on the dollar being worth 100 yen on average and the euro 135 yen this year.
Before it's here, it's on the Bloomberg Terminal.
LEARN MORE