Amanda Knox's Jury Begins Deliberations in Murder Retrial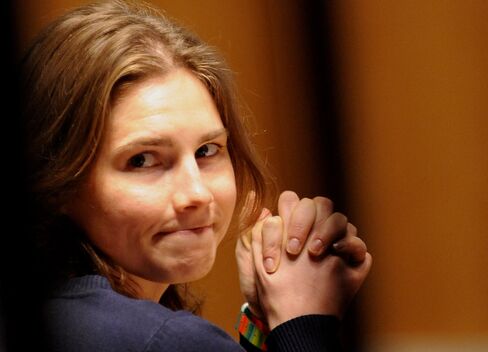 A Florence appeals court may decide today whether to convict Amanda Knox and her former Italian boyfriend Raffaele Sollecito in a retrial for the 2007 killing of British student Meredith Kercher.
The 26-year-old Seattle native, who returned to the U.S. as a free woman after an appeals court two years ago tossed out her 2009 murder conviction, sent an e-mail to the court last month pleading her innocence.
"I'm not a murderer. I am not a rapist. I am not a thief or a plotter or an instigator," she said in a letter written in Italian and read out by presiding judge Alessandro Nencini Dec. 17. Knox also said she didn't return to Italy because she was "afraid' she wouldn't get a fair trial. The court began deliberations earlier today and Nencini said a verdict isn't expected before 5 p.m. local time.
Before the death of her housemate, Knox was an exchange student in Perugia, a university town of 170,000 in central Italy better known for its Baci chocolates. She was originally sentenced to 26 years and served almost four years in prison before the verdict was overturned in October 2011. Sollecito, now a 29-year-old computer studies graduate, was sentenced to 25 years in jail in the first ruling in 2009 and found not guilty on appeal in 2011.
Throat Slashed
On March 26 last year, Italy's highest court approved a prosecutor's request to void the appeals court verdicts and try the pair again.
Kercher, a 21-year-old London native and Leeds University exchange student, was found dead in her bedroom, half-naked and with her throat slashed, on Nov. 2, 2007, in the house she shared in Perugia with Knox and two other women. Prosecutor Giuliano Mignini said at the original trial that Knox had masterminded a drug-fueled sex game involving Sollecito and Rudy Guede, an Ivory Coast native who grew up in Italy, which turned violent, leading to the murder.
Guede was found guilty in a separate ''fast-track" trial in 2008 and sentenced to 30 years. His jail term was reduced to 16 years in a 2009 appeal.
Knox first told police she was inside the villa at the time of the killing and that screaming from Kercher's room alerted her to the crime scene. She also initially named the owner of a bar where she had worked as the possible killer. The bar owner, Patrick Diya Lumumba, was arrested and later released after a witness confirmed his alibi. Knox later altered her story and said her original account had been coerced by the police.
30 Years
Prosecutor Alessandro Crini has requested a 30-year prison sentence for Knox, of which four for slander, and 26 years for Sollecito, saying the murder may have been rooted in arguments about the house's cleanliness and sparked by a row over a toilet left unflushed by Guede that night. Crini has also demanded the application of precautionary measures, which under the Italian law can range from arrest to passport confiscation, if the pair are convicted.
"I am afraid that the prosecution's vehemence will leave an impression on you, that their smoke and mirrors will blind you," Knox wrote in the letter to the appeals tribunal.
If convicted, the couple would have one more chance to bring the case before Italy's top court under the country's three-level trial system.
Extradition Request
An extradition request could be made should judges accept the prosecutor's request for precautionary measures and Knox refuse their application, her lawyer Luciano Ghirga said by phone Jan. 28.
Still, even a definitive conviction by Italy's top court may not result in extradition due to a U.S. prohibition on being tried twice for the same crime. Italian newspaper Corriere della Sera reported today that Knox has written a letter to Kercher's family. The newspaper cited the victim's sister, Stephanie, as saying she didn't feel the need to read it for now.
Like Knox, Sollecito has always denied any wrongdoing, saying all he and his girlfriend wanted at the time was to be isolated in their "little fairy tale." He is still in Italy.
The original Knox trial in 2009 garnered global media attention and divided opinion along national lines, while failing to clarify what really happened on the night of the murder. U.S. newspapers including the New York Times argued for acquittal while U.K. dailies portrayed Knox as a seductive temptress with a violent streak. Her family and friends described her as a creative and industrious student who, while eccentric, would never harm anyone.
Jessica Rabbit
Sollecito's lawyer Giulia Bongiorno said during the first appeals trial that Knox was more a Jessica Rabbit than a femme fatale, explaining that like the carton-film character she's not "bad, she's just drawn that way." Sollecito didn't act out of love for his girlfriend and was not Knox's "puppy," Bongiorno told the court earlier this month in defense arguments.
While the criminal saga is set to continue, the 150-square meter (1,615 square foot) house at the center of the killing in the walled medieval town is now up for sale. The asking price is 460,000 euros ($629,000), according to a posting on real estate agency Tecnocasa's website.