Rio Olympic Infrastructure Costs of $2.3 Billion Are Set to Rise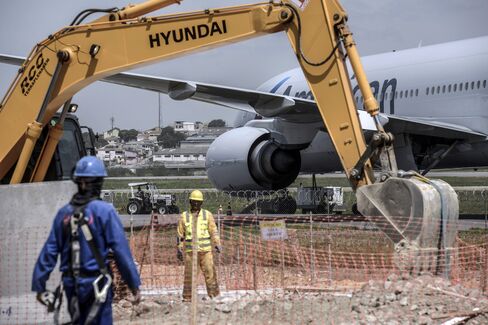 Brazilian authorities announced 5.6 billion reais ($2.3 billion) will be spent on infrastructure directly related to the 2016 Rio de Janeiro Olympic Games and those costs will rise as projects are added.
Yesterday's announcement comes months behind schedule, and after pressure on public bodies to reveal exactly how much it will cost for Rio to be the first South American city to host the quadrennial showpiece. Delays and cost overruns to several projects related to this year's soccer World Cup have sharpened the focus on the Olympics.
"We are committed to being on schedule," Sports Minister Aldo Rebelo said at a press conference in Rio to announce the spending plans. "It is the first time we have a consortium of three levels of government. It is in an effort to ensure the success and execution of all the commitments to deliver the Olympics in Rio in 2016."
On Jan. 24 the Rio organizing committee said costs to run the 2 1/2-week event had grown to 7 billion reais from the 5.6 billion estimated when Rio won hosting rights in 2009. Its bid document also said 23 billion reais would be spent on infrastructure projects.
Yesterday, many of the largest investments like a new subway line and port were excluded from the Olympic costs. Brazil has declared that it will spend 26 billion reais on the World Cup, which includes airports and roads in 12 host cities. Last year millions of people took to the streets in protests that included complaints about the money being lavished on sporting events.
Legacy Projects
Deputy Sports Minister Luis Fernandes said lumping all World Cup costs together confused the Brazilian public, so Olympic organizers decided to make their budget clearer by separating legacy projects from those associated with the games. Partnerships with the private sector account for more than 70 percent of the budget released yesterday.
"We understand we have to communicate in a clearer fashion, that's what we're trying to do here now," Fernandes said at the event in Rio. "That's part of what we learned. People were confusing basic investments in infrastructure, which serve the country as a whole, as part of the costs of the games. They're not part of the games."
Fernandes and officials from the Rio state and municipal governments all declined to provide an estimate about how much the games would eventually cost, saying updates would be provided periodically. A separate press conference has been scheduled for March when details related to rail, port and road upgrades will be announced.
A study by the Centre for Major Programme Management at the Said Business School in Oxford, England, showed cost overruns at the last 17 summer and winter games, with an average overspend of 179 percent.
U.K. Spending
The U.K. in 2007 more than tripled to 9.3 billion pounds ($15.5 billion) the spending plan for the 2012 Games after underestimating costs to clean up the Olympic Park site and construct venues.
Rio organizers have come under pressure from the International Olympic Committee, whose members have expressed concern at the pace of progress. The biggest worry is the Deodoro sports complex, which has not been incorporated into the budget. The initial plan was scaled down, and a tender for work to begin has yet to happen. That will add a significant amount to the costs, organizers conceded.
"Just because the value isn't there doesn't mean that the project's delayed," said Maria Silva Bastos, who heads Rio's Olympic municipal company.
Before it's here, it's on the Bloomberg Terminal.
LEARN MORE