Philips Profit Beats Estimates as Cost Cuts Underpin Impr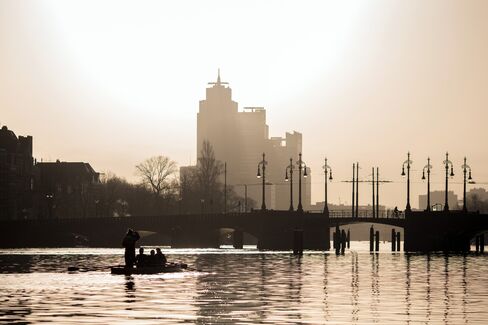 Royal Philips NV, the world's largest lighting company, said progress toward 2016 goals for profitability will be "modest" this year after a slowdown in healthcare orders and increasing costs tied to currencies.
The Dutch company will step up spending on restructuring and investment, and currency hedges coming to an end will increase the effect of foreign exchange movements, Chief Executive Officer Frans Van Houten said on a call today.
Van Houten faces the challenge of improving profit at a time when consolidation in the U.S. health-care market continues to delay orders and European hospitals and clinics tighten budgets. Orders for body scanners and other health gear fell 1 percent in the fourth quarter. The Dutch company is growing in China, where sales of appliances such as air purifiers exceeded company predictions, though there is pressure on some emerging markets after U.S. tapering sapped liquidity, the CEO said.
"The start of tapering in the U.S. affects the emerging markets," with some emerging markets such as Turkey suffering an outflow of capital, Van Houten told journalists at a media conference.
Philips' outlook overshadowed better-than-estimated profit in the fourth quarter. Earnings before interest, taxes, amortization and one-time items rose 20 percent to 915 million euros ($1.3 billion). That compared with an 874 million-euro average estimate of nine analysts surveyed by Bloomberg.
Royalty Fee
"Overall the results seem a bit light," said Robin van den Broek, an analyst at ING. "Looking at the divisions separately there's a miss in health-care, while order intake for that division also seems soft."
Shares of the Dutch company traded 2.7 percent lower at 25.77 euros as of 2:00 p.m. in Amsterdam, where it's based.
A one-time royalty fee helped margins beat estimates, and investors are unlikely to be swayed by the cautious guidance and "marginally" higher dividend, Van den Broek said.
Philips is focusing on more profitable businesses such as LED lighting, health-care equipment and wellness offerings, while trying to sell the DVD and multimedia divisions that are the heritage of the 123-year-old company. The Ebita margin was 10.5 percent for the full year, within a 10 percent to 12 percent target range.
DVD Sale
Sales gained 1 percent to 6.8 billion euros. Comparable sales at both Consumer Lifestyle and Lighting divisions grew 8 percent, while Healthcare revenue increased 4 percent. Osram Licht AG, a competitor in lighting, gained 4 percent in Frankfurt.
Last week, the company announced the sale of its stake in a television joint venture to TP Vision, yet an earlier attempt to sell the DVD operations to Japan's Funai Electric Co. failed in October, with both parties claiming breach of contract.
Philips has several parties interested in the unit and talks are underway, with a deal possible this year. It suffered as customers flocked to competitors such as Sony Corp. and Apple Inc. for mobile and music devices.
Margins
Philips' cost-cutting program has been running ahead of schedule, with 1 billion euros in gross savings to date. The CEO is striving to achieve 2016 goals including a compound annual growth rate for comparable sales of 4 percent to 6 percent, with an Ebita margin of 11 percent to 12 percent.
Van Houten, a Philips veteran with a record for turning around underperforming assets, last year pledged to extend his efficiency drive to bolster profitability. Van Houten has also started a buyback program totaling 1.5 billion euros. Philips has acquired 7 percent of its target so far, it said today.
Philips is the largest maker of lighting equipment, and it competes with Siemens AG and General Electric Co. in the market for health-care equipment such as medical scanners.
Before it's here, it's on the Bloomberg Terminal.
LEARN MORE