DuPont to Buy Back Shares as Profit Tops Estimates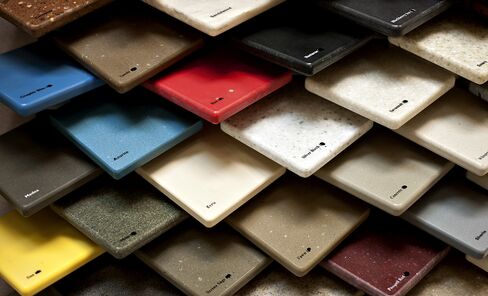 DuPont Co., the biggest U.S. chemical maker by market value, will repurchase $5 billion of its shares after posting fourth-quarter earnings that exceeded analysts' estimates.
At least $2 billion of the buybacks will occur in 2014, Wilmington, Delaware-based DuPont said today in a statement. The repurchase plan is the largest since a similar sized program began in 2005 and the biggest since Ellen Kullman took over as chairman and chief executive officer in 2009. It will help make up for forecast demand growth in 2014 that trails analysts' expectations, said John E. Roberts, a New York-based analyst with UBS Securities LLC.
"With the addition of the buybacks, earnings guidance is in line with consensus," Roberts, who recommends holding DuPont shares, said in a phone interview today.
The 212-year-old company has been under pressure to improve results after activist shareholder Trian Fund Management LP took a stake last year. In October DuPont announced plans to spin off its performance chemicals business because of slow-growing, volatile earnings.
Fourth-quarter profit excluding one-time items was 59 cents a share, topping the 55-cent average of 19 analysts' estimates compiled by Bloomberg.
DuPont sold corn and soybean seeds earlier than normal. That, along with higher Latin American insecticide sales, helped its agriculture unit record its first profitable fourth quarter, normally a seasonally weak period.
Less Tax
The company also paid less in tax. Its tax rate was 20.8 percent in 2013, compared with the 22 percent level predicted three months ago, and the benefit was concentrated in the fourth quarter, Chief Financial Officer Nicholas Fanandakis said on a conference call.
"The 4-cent beat in the quarter is almost all due to a lower-than-expected tax rate," Mark Gulley, a New York-based analyst at BGC Partners LP who recommends holding DuPont shares, said today by phone. "The quarter also benefited from the pull forward of seed sales."
Quarterly sales volumes rose 9 percent, helping to make up for a 2 percent drop in average prices, the company said. The strength of the dollar exchange reduced earnings by about 4 cents a share in the period, Fanandakis also said.
The shares fell 1.1 percent to $59.57 in New York. They have declined 8.3 percent this year.
The company said today its 2014 profit excluding one-time items will be $4.20 to $4.45 a share, an increase of 8 percent to 15 percent. That compares with the $4.32 average of 22 estimates.
Dollar Strength
It forecast 2014 revenue to climb about 4 percent to $37 billion, trailing the $38.1 billion average estimate. DuPont said a "slightly stronger" dollar will erode sales gains.
Exchange rates have tumbled this month across the developing world as a contraction in Chinese manufacturing added to investors' concern about the impact of the Federal Reserve withdrawing its stimulus program.
In addition, asset sales, such as the December agreement to sell the company's glass-laminating and vinyls unit to Japan's Kuraray Co., reduced the revenue growth forecast by 2 percentage points, DuPont said.
Based on current prices, the anticipated repurchase of about 30 million shares this year will cut the number of outstanding shares by 1 percent to 1.5 percent, according to Fanandakis. The reduction includes new stock options that typically dilute the share count by 8 million to 12 million shares a year, he said.
Pigment Volume
Efforts to separate the performance chemicals business are "well under way," Fanandakis said. The business being spun off includes the production of titanium-dioxide pigment, Teflon coatings and refrigerants.
DuPont is the world's largest producer of titanium dioxide. It said titanium-dioxide sales volumes rose 18 percent in the fourth quarter, helping to make up for lower prices. The increase marks the fourth consecutive improvement in demand for the white used in paints, plastics and food, DuPont said. Expectations for the timing and strength of a recovery in the pigment business are "evolving," Kullman said on the call.
DuPont is pursuing "smaller" acquisitions with geographic significance, such as last year's purchase of Pannar Seed Ltd., Africa's largest seed producer, the CEO said.
DuPont's unfunded pension liabilities fell to $8 billion at year end, from $13 billion a year earlier, with asset returns and a higher discount rate contributing equally to the improvement, Fanandakis said.
Imprelis Charge
Adjusted fourth-quarter results exclude $197 million in charges, net of insurance recoveries, to compensate customers whose trees were damaged by Imprelis herbicide, as well as a $129 million charge for asset impairment in the electronics unit, DuPont said. Imprelis damage claims now total $1.18 billion.
DuPont is one of several chemical makers that are facing pressure from activist investors to improve returns.
Third Point LLC, the hedge fund founded by billionaire Dan Loeb, asked Dow Chemical Co. last week to consider splitting into separate commodity and specialty companies to improve profitability and shareholder returns. After Pershing Square Capital Management LP became the largest shareholder of Air Products & Chemicals Inc., the company announced in September that CEO and Chairman John E. McGlade would retire in 2014.
DuPont, founded in 1802 to make gunpowder, produces thousands of products from Corian countertops and Teflon coatings to Tyvek weather barrier and Kevlar bullet-proof fibers.