Ski Resorts Seen as Buyout Targets Amid U.S. West Drought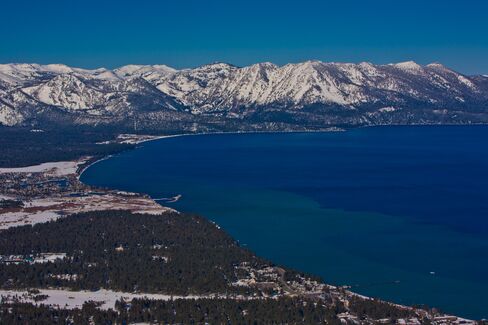 Michael Simpson arrived at Alpine Meadows at Lake Tahoe earlier this month and found little more than dirt. Except for one ski run maintained by machines, the drought-parched California mountain was devoid of snow.
"It's about as bad as I've ever seen it," Simpson said after his trip to the resort owned by KSL Capital Partners LLC.
Simpson, 49, half of the Dust Brothers duo known for producing albums including the Beastie Boys' "Paul's Boutique," has skied the area for more than a decade. "My barometer is the parking lot," he said. "We parked right at the entrance every single day. The lot was never full."
The same winter that brought blizzards and the polar vortex to the East Coast has left ski destinations in California and Nevada largely dry. Resorts are making do with the least snow in more than four decades and a 50 percent drop in attendance in some areas. Smaller, independent owners may struggle to hold out for a better season next year, said Smedes Rose, an analyst at Evercore Partners Inc. in New York.
"It wouldn't be out of the range of possibilities that some of the resorts would become capital-constrained, and that we will see some consolidation because of that," he said.
After three years with little precipitation, California Governor Jerry Brown this month declared a drought emergency. Snowfall at the 25 ski resorts in the most-populous U.S. state is the lowest since the 1971-72 season, according to the California Ski Industry Association.
Mammoth Snow
Only 48 inches (122 centimeters) of snow have fallen at Mammoth Mountain Ski Area since the start of the ski season in early November, compared with an average of 400 inches a year, said Joani Lynch, a spokeswoman for the resort. The Diamond Peak resort, with six lifts overlooking Lake Tahoe in Incline Village, Nevada, has received 42 inches this season, compared with an annual average of 325 inches, according to its website.
The lack of snow is putting the toughest strain on the western states' smaller, independent resorts, according to Rose. That may allow bigger, more diversified operators such as Vail Resorts Inc. to snap up their struggling rivals, he said.
"We are always looking," Robert Katz, chief executive officer of Vail Resorts, said in a phone interview. "Seasons like this can be an opportunity, but acquisitions in the ski industry are often the result of long-term discussions. Owners are usually very passionate about their business. Negotiations can take a long time. It's not like a hotel or an office."
Vail Acquisitions
Vail Resorts has spent the last couple years helping roll up the industry. Last May, it entered a long-term lease to operate Canyons Resort in Park City, Utah, and in December 2012 bought urban ski areas Afton Alps in Minnesota and Mount Brighton in Michigan for $20 million in cash. Also in 2012, it acquired Kirkwood Mountain Resort in Lake Tahoe, along with adjoining development sites, for about $18 million.
The Broomfield, Colorado-based company, which operates eight destination resorts, including Heavenly Mountain Resort and Northstar at Lake Tahoe, wants to add more urban ski areas as well as larger, stand-alone resorts, Katz said. Lake Tahoe straddles the California-Nevada border, with ski areas in both states.
Visits at Vail's resorts since the season began in November are down 0.7 percent from a year earlier, the company said in a Jan. 13 statement. A 7.4 percent increase at Colorado and Utah properties was countered by a 23 percent drop at Tahoe-area resorts.
Rose, the Evercore analyst, on Jan. 15 cut his 2014 estimate for Vail Resorts earnings to $1.06 from $1.32 as snowfall in Tahoe runs 85 percent lower than last year. He has a hold rating on the stock.
'Different Areas'
"This is an industry where it's hard to make it on your own and, in general, it's always better to have exposure to many different areas," Rose said. "This type of season presents some opportunities for the bigger guys."
The largest U.S. ski-resort operators include Denver-based KSL Capital, which acquired California's Squaw Valley USA, host of the 1960 Winter Olympics, in December 2010. CNL LifeStyle Properties Inc., a closely held real estate investment trust based in Orlando, Florida, owns properties including Sierra-at-Tahoe Resort and Mountain High Resort in the San Gabriel Mountains near Los Angeles.
Sherry Magee, a spokeswoman for CNL, declined to comment on the company's ski operations. Steven Siegel, a partner at KSL, didn't return a telephone call seeking comment.
Vail Resorts' season-pass program has helped counter the impact of a lack of snow in California because it allows holders to use ski-lift tickets at any of the company's resorts.
Skier Flexibility
"Having different resorts in areas with different weather patterns helps us and creates flexibility for our customers," Katz said.
In Southern California, Mt. Baldy Ski Lifts Inc., which operates four lifts in the San Gabriel Mountains about 46 miles (74 kilometers) northeast of downtown Los Angeles, has had its visitor numbers drop by about half from last year, which was already a slow season, General Manager Robby Ellingson said. The mountains, usually snow-capped in January and visible from much of Los Angeles, have been barren, deterring potential visitors, he said.
"People don't come up here when the mountains aren't white," Ellingson said.
He declined to discuss the resort's finances or say whether the closely held property's dozens of investors have discussed any transactions. He declined to identify its investors.
Making Snow
The Snow Summit and Bear Mountain resorts, owned by Snow Summit Ski Corp. in Southern California's San Bernardino Mountains, have "massive" snow-making capabilities that draw from Big Bear Lake, eliminating the need for well water, said Chris Riddle, the company's marketing director. Visits are down about 9 percent from last year, he said. About 80 percent of ski and snowboarding runs are open with man-made snow.
Riddle declined to comment on the financial impact of the ski season on the resorts' about 400 owners.
Mammoth, the No. 3 U.S. ski resort by visitors, behind Vail and Breckenridge in Colorado, is expecting about 950,000 skier visits this season, down from an average of 1.3 million, Lynch said. Only half of the mountain's 28 chairlifts are open because of the lack of snow. A venture led by Barry Sternlicht's Starwood Capital Group purchased Mammoth Mountain Ski Area, about 250 miles north of Los Angeles and visited by celebrities including Tom Cruise, for $365 million in 2005.
'Dialing Down'
"We try to stay profitable during slow seasons by dialing down our operations and labor costs," Lynch said. "But we are optimistic that snow will come and with the economy recovering, we are in a better space than we were a couple of seasons ago."
Sternlicht's original plans to add hotels and restaurants to transform the town into the most-visited U.S. ski area have been slowed by the recession and sluggish economic recovery since, Lynch said.
The nearby city of Mammoth Lakes filed for bankruptcy protection in 2012 as the second-lowest snowfall in two decades kept tourists away from the region during the 2011-12 ski season. Starwood now expects to complete some of its original plans in the next five to 10 years, Lynch said.
Tom Johnson, a spokesman for Starwood, declined to comment on the firm's plans.
At Lake Tahoe, music producer Simpson, who's leased a condominium at Alpine Meadows through the end of April, canceled a second visit he had planned for this month and has put on hold any further trips until there's more snow.
"There was a long run open, which was surprisingly good for the first couple of hours each day," Simpson said. "But otherwise there was literally no snow at all. If you somehow fell off the lift, you'd land on dirt and on top of jagged rocks."
Before it's here, it's on the Bloomberg Terminal.
LEARN MORE