Sales of New U.S. Homes Fell More Than Forecast in Dec.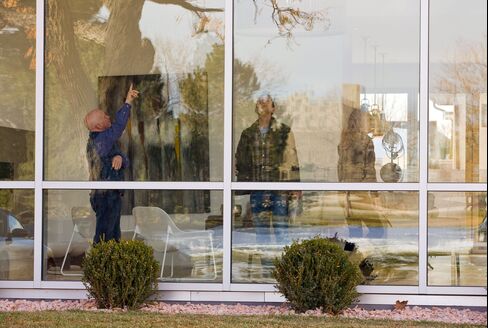 Jan. 27 (Bloomberg) -- Purchases of new homes in the U.S. fell more than forecast in December, ending the industry's best year since 2008 on a sour note.
Sales decreased 7 percent to a 414,000 annualized pace, lower than any estimate of economists surveyed by Bloomberg, after a 445,000 rate in November that was weaker than previously calculated, the Commerce Department reported today in Washington. For all of 2013, demand jumped 16.4 percent to 428,000, the most in five years.
The housing rebound has cooled as bad weather slowed the market and as buyers adjust to higher borrowing costs and rising property values, which have hurt affordability. Nonetheless, builders such as KB Home remain optimistic about the outlook for the market, which will need to expand to meet the needs of a growing population.
"I wouldn't panic, but it's obviously not a good report," said Michael Hanson, a senior U.S. economist at Bank of America Corp. in New York, the best forecaster of new-homes sales over the past two years, according to data compiled by Bloomberg. "I don't feel like this is the beginning of the end of the housing recovery by any stretch."
Stocks dropped after the report, erasing earlier gains. The Standard & Poor's 500 Index declined 0.1 percent to 1,789.24 at 10:17 a.m. in New York following the gauge's worst week since June 2012.
Survey Results
The median forecast of 75 economists surveyed by Bloomberg News called for 455,000. Estimates ranged from 420,000 to 475,000. November was revised down from a previously estimated 464,000 pace.
Demand is rebounding from a record-low 306,000 homes sold in 2011. That compares with a record peak of 1.28 million in 2005 at the height of the housing boom.
The median sales price increased 4.6 percent from December 2012 to $270,200, today's report showed.
Purchases dropped in three of four regions, led by a 36.4 percent plunge in the Northeast, the smallest market. The two largest areas, the South and West, also declined, while the Midwest jumped 17.6 percent.
The supply of homes at the current sales rate rose to 5 months, the most since September, from 4.7 months in November. There were 171,000 new houses on the market at the end of December, the fewest since July.
Weather might have dealt a setback to some builders, with snowfall 21 percent above normal in December, according to weather-data provider Planalytics Inc. Last month was the coldest December since 2009.
Less Construction
In a another sign of slowing momentum, housing starts fell 9.8 percent last month to an annual rate of 999,000 following November's 1.11 million pace, which was the highest since November 2007, the Commerce Department reported earlier this month. Work on single-family houses fell 7 percent to a 667,000 rate in December from 717,000 the prior month.
New-home sales, which account for about 7 percent of the residential market, are tabulated when contracts are signed, making them a timelier barometer than transactions on existing homes.
Purchases of previously owned homes climbed in December for the first time in five months, with sales up 1 percent to a 4.87 million annual pace, the National Association of Realtors reported Jan. 23. The gain capped the industry's strongest year since 2006.
More Growth
Builders see plenty of room for growth this year, said Jeffrey Mezger, chief executive of KB Home in Los Angeles.
"The fundamental drivers of a housing recovery remain in place, although conditions are not as favorable as they were six months ago " Mezger said on a Dec. 19 earnings call. "Affordability is at attractive levels, demographics remain strong and there's pent-up demand."
While higher borrowing costs and prices are keeping some people out of the market, that pause should be short-lived, Mezger said.
"In the meantime, we feel that less upward pressure on home prices is healthy for a measured, sustainable housing recovery," he said.
To contact the reporter on this story: Lorraine Woellert in Washington at lwoellert@bloomberg.net
To contact the editor responsible for this story: Carlos Torres at ctorres2@bloomberg.net