German Business Confidence Rises as Growth Pickup Seen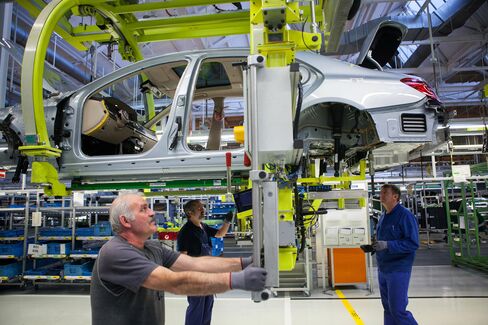 Jan. 27 (Bloomberg) -- German business confidence rose to the highest level in more than two years and beat economists' forecasts in a signal that the expansion in Europe's largest economy may be accelerating.
The Ifo institute's business climate index, based on a survey of 7,000 executives, climbed to 110.6 in January from 109.5 in December. Economists predicted an increase to 110, according to the median of 45 estimates in a Bloomberg News survey. It was the third consecutive increase and the strongest reading since July 2011.
Germany is key to sustaining the recovery in the rest of the 18-nation euro area, its biggest trading partner, after the region's longest-ever recession. The Bundesbank has predicted that the German economy will expand "strongly" in coming months after a weak start to the final quarter of 2013.
"The traffic lights for a powerful economic recovery are green," said Thomas Gitzel, chief economist at VP Bank AG in Vaduz, Liechtenstein. "Until now the German economy has relied on solid domestic demand. For the coming quarters there is now also a justifiable hope that global trade will pick up pace."
The euro rose to $1.3717 after the report, compared with $1.3699 before the release. The yield on 2-year German bunds was little changed at 0.126 percent at 10:17 a.m. Frankfurt time. The DAX stock index was down 0.5 percent at 9,346.
Job Gains
A measure of current conditions rose to 112.4 in January from 111.6 the prior month, and a gauge of expectations jumped to 108.9 from 107.4, Ifo said.
The number of Germans unemployed dropped for the first time in five months in December and the jobless rate held at 6.9 percent, near a two-decade low. Private consumption, imports and exports all rose last year, and German manufacturing probably expanded for a seventh month in January.
The nation still faces headwinds from the fragility of the recovery in the rest of the currency bloc. German gross domestic product probably grew by about a quarter of a percent last quarter compared with 0.3 percent in the prior three months, the Federal Statistics Office said Jan. 15. Investor confidence unexpectedly declined this month from a seven-year high.
The European Central Bank kept its benchmark interest rate at a record low of 0.25 percent on Jan. 9 after a surprise cut in November, and said the risks to the euro-area economy remain on the downside.
Auto Sales
At the same time, consumer confidence in the region increased more than forecast in January, and European new-car sales climbed in December by the most in almost four years.
Wolfsburg, Germany-based Volkswagen AG, Europe's largest automaker, said this month that its global sales rose to more than 9.7 million vehicles in 2013, fueled by growth in demand for Audi and Porsche luxury cars. Hanover-based Continental AG, Europe's second-largest auto-parts maker, said it foresees a fifth consecutive year of record sales.
"This is the confirmation of a process of a gradual acceleration" in Germany, Annalisa Piazza, senior fixed-income strategist at Newedge Group in London, said before the Ifo report. "It's based on the increased net contribution of exports, as well as on the growth of family spending on the back of the recent decline in unemployment and on an expansion of company investment."
To contact the reporter on this story: Alessandro Speciale in Frankfurt at aspeciale@bloomberg.net
To contact the editor responsible for this story: Craig Stirling at cstirling1@bloomberg.net