De Blasio Takes Pre-K Tax Plan to Albany Showdown With Cuomo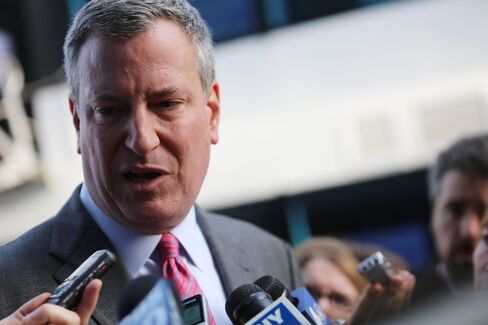 – Mayor Bill de Blasio says he can get enough teachers and classrooms to put two-thirds of New York City's 4-year-olds in school by September. In Albany today, he tried to persuade Governor Andrew Cuomo and lawmakers to back the tax on the wealthy he says he needs.
The mayor, who won office in November on a promise to raise taxes on the rich to provide pre-kindergarten across the city, outlined his plan during more than two hours of testimony before lawmakers at the state Capitol. De Blasio lauded Cuomo's budget, which provides funding for pre-K statewide while cutting taxes by $2.2 billion, while calling it insufficient to fund his program.
"There are some who say that Albany shouldn't approve our plan because the state government simply cannot raise any taxes right now," said de Blasio, a 52-year-old Democrat. "We're not asking Albany to raise the state income tax by a single penny to pay for universal pre-K and after-school programs in New York City. We're simply asking Albany to allow New York City to tax itself."
The state's two most visible leaders are vying for influence in a divided legislature, which holds the power to determine which program prevails. The dueling Democrats, friends for 20 years, have each put forward a five-year plan for pre-K, while differing on how to pay for it. Cuomo's would cost $2.2 billion statewide; de Blasio's $2.5 billion just for the city and would include after-school programs.
In New York, the legislature and governor control most local levies, including income taxes.
'Reliable Funding'
Cuomo, a 56-year-old Democrat, has proposed using general funds to expand pre-K statewide. New York City Democrats are seeking to capitalize on an election-year wave that carried de Blasio to the biggest victory margin for a non-incumbent in city history, saying the tax increase is what residents voted for and would tackle widening income inequality.
"Dedicated and reliable funding," not lack of space or personnel, remains the obstacle to providing pre-K to 53,604 children by the start of the next school year and to 73,250 by 2015, according to the mayor's office.
During a joint press conference on a separate issue following de Blasio's testimony, Cuomo stuck to his plan.
"It's clear in the constitution that the state has to pass a law to authorize local taxation; otherwise, we'd have neighboring taxation districts all across the state and we'd have tax wars," Cuomo said. "My proposal is my proposal."
Rebutting Arguments
Full-day pre-K would reach all 4-year-olds by using half the almost 4,000 classrooms identified by officials as "potentially available" within public school buildings, in addition to community-based organizations, according to a report de Blasio released before his testimony. It pegs the average cost at $10,239 per child, or $340 million annually, including for expansion and operational costs. It earmarks almost $100 million for start-up infrastructure and costs.
De Blasio took questions from legislators who alternated between skeptical and supportive as he sat beside one of their former colleagues, Dean Fuleihan, who spent more than 30 years in Albany as a policy adviser and fiscal negotiator before becoming de Blasio's budget director.
The pair rebutted arguments that the tax increase might push the wealthy to leave for lower-tax areas, saying instead that it would boost the city's allure by helping lower crime and bolster graduation rates.
Business Boost
"There is nothing more important than the quality of the school system," de Blasio said, calling universal pre-K the prerequisite to fixing a "deeply troubled" education system. "This is an investment that will improve our business climate, it will improve our real estate prices and make our city more liveable."
Funding from the tax increase would be prevented from being spent on anything other than pre-K and after-school programs, such as new labor contracts with 300,000 city workers, de Blasio said. In a shift from the tone he took toward charter schools during his campaign, he said he'd be open to amending state law to allow charters to offer pre-K, as Cuomo's budget calls for.
The mayor invoked the ability of his predecessors to obtain state approval to raise taxes. He renewed his pledge that the tax would expire after five years, saying the structure would afford officials the consistency to get the program running while forcing them to find savings in the budget to pay for it in the future, such as cutting health-care outlays for city workers.
"Localities understand their own needs," de Blasio said.
Sheldon Silver, the Manhattan Democrat who leads the assembly, said last week a combination of tax increases on the city's wealthy and state funding may be needed. Senator Jeff Klein, a Bronx Democrat who co-leads the chamber, has swung his full support behind de Blasio's tax increase. His counterpart, Senator Dean Skelos, a Long Island Republican, favors universal pre-K, though he generally opposes raising taxes.