U.S. Stocks Snap 3-Day Drop on Earnings as Oil Climbs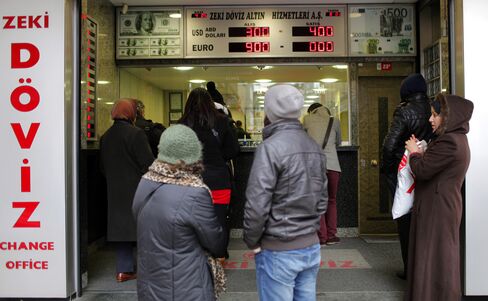 U.S. stocks rose, snapping a three-day decline in the Standard & Poor's 500 Index, while oil drove an advance in commodities after data showed rising consumer confidence and higher-than-estimated corporate earnings. Spanish bonds increased and the yen weakened.
The S&P 500 climbed 0.6 percent to 1,792.50 by 4:30 p.m. in New York. The Stoxx Europe 600 Index added 0.7 percent and the MSCI Emerging Markets Index gained 0.3 percent, rallying from an almost five-month low. The yen retreated against all but one of its 16 major peers. Spain's 10-year bond yield fell five basis points to 3.70 percent, while similar maturity U.S. Treasury yields were little changed at 2.75 percent. Cocoa futures reached a 28-month high, while oil jumped 1.8 percent.
D.R. Horton Inc. to Pfizer Inc. posted better earnings than analysts projected, home prices in 20 U.S. cities rose in November by the most in almost eight years and the Conference Board's index of consumer confidence increased. The Federal Reserve will probably agree at its meeting that started today to keep scaling back bond purchases, a Bloomberg survey shows. U.S. equities capped the biggest three-day selloff since June yesterday amid concern over the stability of emerging economies.
"The ride probably will not be as smooth as we have seen in the last couple years," Mark Luschini, chief investment strategist at Janney Montgomery Scott LLC, which oversees $63 billion, said by phone from Philadelphia. "We've had a pretty decent pullback here in equity prices."
Equity Volatility
The Chicago Board Options Exchange Volatility Index, known as the VIX, fell for a second day, losing 9.3 percent to 15.8. The gauge of S&P 500 options soared 46 percent last week, the most since May 2010.
Pfizer, the world's biggest drugmaker, advanced 2.6 percent after earnings exceeded analysts' estimates as the company cut costs and saw its tax rate fall. An index of homebuilders surged 6 percent as D.R. Horton jumped 9.8 percent after reporting that it's charging more for houses and that sales are strengthening.
Apple Inc. dropped 8 percent after reporting holiday-season iPhone sales that missed estimates and forecasting a reduction in second-quarter revenue.
AT&T Inc., the second-largest U.S. wireless carrier, fell more than 1 percent in extended trading after reporting after U.S. markets closed fourth-quarter sales that were in line with analysts' estimates. Yahoo! Inc. slid about 5 percent after hours as the company forecast first-quarter revenue below some analysts' projections.
Some 83 S&P 500 stocks saw their 14-day relative-strength index drop below 30 yesterday, the most since November 2012, data compiled by Bloomberg show. RSI measures the degree to which gains and losses outpace each other, and some analysts who watch charts to predict market moves consider a reading lower than 30 a signal the stock has fallen too far too fast.
FOMC Meeting
The Federal Open Market Committee started its last meeting under Chairman Ben S. Bernanke in Washington.
Policy makers said in December that the central bank would begin to pare the pace of its monthly bond buying by $10 billion to $75 billion this month. The Fed will cut purchases by $10 billion at each of the next six FOMC meetings, with the program ending no later than December, according to economists polled in a Bloomberg survey conducted Jan. 10.
The Conference Board's index of consumer confidence rose to 80.7 in January from a revised 77.5 in the prior month, the private research group said today. The S&P/Case-Shiller index of property prices in 20 cities climbed 13.7 percent from November 2012, the biggest 12-month gain since February 2006, after a 13.6 percent increase in the year ended in October, a report from the group showed.
About 74 percent of the S&P 500 companies that have posted earnings this season beat analysts' projections. Profit at S&P 500 companies probably rose 6.6 percent in the fourth quarter of 2013, and sales increased 2.3 percent, analysts' estimates compiled by Bloomberg show.
European Stocks
In Europe, three shares advanced for every one that declined in the Stoxx 600. The gauge completed its biggest three-day drop since June yesterday, falling 4.2 percent in the period to the lowest close since Dec. 20.
Software AG jumped 7.2 percent after Germany's second-biggest software maker reporting quarterly earnings. F&C Asset Management Plc climbed 6.1 percent after Bank of Montreal bought the manager of the oldest U.K. investment fund for 708 million pounds ($1.2 billion). Swedbank AB declined 4.6 percent after the Stockholm-based lender reported a drop in net income, missing analysts' projections.
The MSCI Emerging Markets Index rose from the lowest level since the end of August. A Bloomberg gauge tracking 20 developing-nation currencies advanced 0.4 percent, the first increase in two weeks.
Indian Rates
India's rupee strengthened 0.9 percent versus the dollar. The central bank unexpectedly raised interest rates, signaling that it's ready to implement the most sweeping changes in its 78-year history to fight the fastest consumer-price gains in Asia. Governor Raghuram Rajan boosted the repurchase rate to 8 percent from 7.75 percent, with only three of 45 analysts in a Bloomberg News survey predicting the move.
Turkey's lira rose for a second day, jumping 1.3 percent as central bank Governor Erdem Basci said it's necessary to use interest rates as the nation aims to rein in inflation. Dubai's stocks led gains among 94 world indexes as Emaar Properties PJSC surged, while Brazil's Ibovespa increased 0.3 percent after three days of declines.
Ukraine's foreign-currency credit rating was cut by Standard & Poor's, which said that an escalation of political turmoil undermined the former Soviet republic's ability to service its debt and threatened aid from Russia. S&P lowered its assessment of Ukraine's debt one step to CCC+, the seventh-lowest junk rating, according to a statement.
Yen, Bonds
The yen weakened as developing nations' stocks ended a three-day rout and emerging-market currencies rallied, damping demand for haven assets. The Japanese currency slipped 0.3 percent to 102.89 per dollar in a second day of declines versus the greenback.
The global bond market is poised for its best annual start since 2008 after investors sought havens amid turmoil in developing nations and weaker-than-forecast economic data from China to the U.S. Bonds worldwide returned 1.18 percent this month through yesterday, the biggest increase for the month since a 1.51 percent gain in January 2008, according to Bank of America Merrill Lynch index data.
Natural gas futures climbed in New York for the fifth time in six days as a winter storm brings heavy snow and icing to states in the U.S. South, stoking demand for the heating fuel. Futures jumped as much as 5.5 percent after tumbling the most in nine months yesterday.
Crude oil and heating oil also helped drive gains among commodities, with the S&P GSCI index of raw materials adding 0.9 percent. West Texas Intermediate crude rose to $97.41 a barrel after two days of declines, while Brent oil for March settlement advanced 0.7 percent to $107.23 a barrel. Gold futures fell for a second day, losing 1 percent to $1,250.50 an ounce.
Cocoa futures rose after crop threats in Indonesia added to supply concerns as climbing demand for chocolate fuels a global shortage. Cocoa reached $2,933 a metric ton, the highest level since September 2011. Raw sugar extended declines in New York, dropping as much as 0.5 percent to the lowest level since June 2010 amid speculation Indian subsidies for raw sweetener exports will be less than sought by the industry.
Before it's here, it's on the Bloomberg Terminal.
LEARN MORE