A Year of Surprisingly Small Deals at Sundance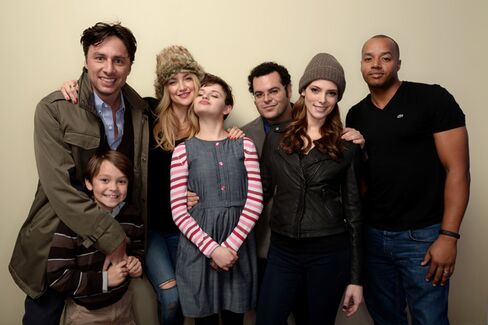 At the 2006 Sundance Film Festival, Little Miss Sunshine received a standing ovation after its very first screening. Better yet for producer Marc Turtletaub, who'd been turned down by nearly every major studio and ended up making the movie on his own, the film inspired an intense bidding war that ended when Fox Searchlight paid an unprecedented $10.5 million for distribution rights. Little Miss Sunshine went on to be a huge mainstream hit, earning more than $100 million at the box office and snagging several Academy Awards. The question buzzing at every Sundance since—and apparently on Buzzfeed lists—is: "Which film will be this year's Little Miss Sunshine?" In 2007 it was the forgettable Son of Rambow ($8 million), and last year it was The Way, Way Back ($9.75 million).
And this year it was, well, nobody.
Only a few of the 117 films screened at Sundance this year sold, and none of them inspired distributors to reach deep into their pockets. Dips and blips happen from time to time, of course; in anticipation of the 2010 festival, the New York Times complained about the previous year's "comparative crickets," when Precious was swooped up for a relatively low $5.5 million. But this year things are especially bleak. Sundance's hit films barely cracked the $3 million mark.
One of the festival's biggest commercial hopefuls, Zach Braff's Wish I Was Here, a Kickstarter-funded film that's positioned as the emotional sequel to his 2004 indie-film-to-end-all-indie-films Garden State, was bought by Focus Features for a paltry $2.75 million. In a statement, Braff said he was "very excited" about the deal. A few more million probably would have inspired him to get more creative with his adjectives.
Why the chump change this year? It's hard to say. As Variety pointed out, the festival had an unusual number of films set in or around Brooklyn. There's Obvious Child, a movie about a Brooklyn comedian; Song One, about a Brooklyn musician; HITS, which satirizes Brooklyn hipsters; Appropriate Behavior, about a Brooklyn break-up; and They Came Together, about a Brooklyn romance. With so many quirky, Brooklyn-based movies to choose from, distributors may have had a hard time falling in love with just one.
For the non-Brooklyn films at Sundance, it might have just been the luck of the draw. Richard Linklater's Boyhood, which was filmed over 11 years to allow the same young actor to literally grow up before audiences' eyes, has been critically applauded, but the small IFC production isn't expected to be a huge box office hit. The same is true for Dinosaur 13, a documentary about the controversy surrounding the 1990 discovery of Sue, the Tyrannosaurus rex skeleton now on display at Chicago's Field Museum. Lionsgate and CNN picked up Dinosaur 13 for $1 million—loose change for Hollywood studios, but a hearty investment as far as documentaries about embattled paleontologists go.
So what does this mean for movie audiences in the coming year? Unless one of these small purchases turns out to be a surprise hit, Sundance might not provide us with the zeitgeisty indie film of 2014. The festival wasn't a dud, but nonetheless, among the glut of comic book blockbusters and RoboCop remakes that are about to flood the market, movie fans might have to make a little more effort to search for something different.
Before it's here, it's on the Bloomberg Terminal.
LEARN MORE