Ukraine Opposition Refuses to End Rallies in Yanukovych Snub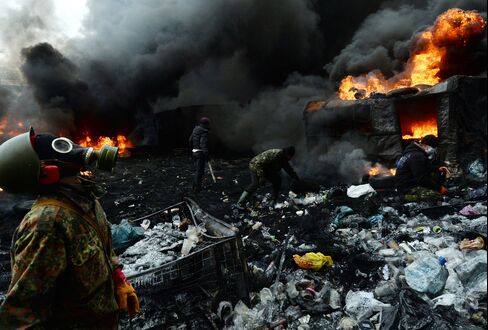 Ukraine's opposition urged protesters to stay on the streets, rebuffing a power-share offer from President Viktor Yanukovych, which they said fell short of their demands.
Opposition leaders Arseniy Yatsenyuk, Vitali Klitschko and Oleh Tyahnybok, addressing demonstrators after Yanukovych offered to give them the top cabinet jobs in return for ending protests, said they won't give up their demands for the president's resignation, snap elections and the annulment of anti-rally laws.
Yanukovych earlier today offered his biggest concessions yet since anti-government rallies erupted two months ago, saying he was ready to give the premiership and a deputy prime minister position to Yatsenyuk and Klitschko. The president is struggling to tame demonstrations that turned deadly this week as anti-protest laws triggered violent riots.
"We will not backtrack!" Klitschko said. "We are keeping our positions. There are no extremists here. We are peaceful people, who are fighting for their rights and demands. We are not listening to any provocations."
An extraordinary parliament session called for Jan. 28 will be crucial in deciding the fate of the country, Yatsenyuk said. Klitschko and Svoboda Party leader Oleh Tyahnybok urged activists to continue protests until all their demands are met.
Amnesty, Constitution
The government also offered an amnesty for protesters who agree to release administration buildings they have seized, Andriy Portnov, Yanukovych's deputy chief of staff, said in a separate statement on the president's website.
The two sides will start talks on changing the constitution and on repealing anti-protest laws that have ignited violence this week, according to Portnov. The clashes have left as many as six people dead and more than 1,000 injured.
"The reshuffle offered by Yanukovych isn't on protesters' agenda now," Vadym Omelchenko, the head of the Gorshenin Institute in Kiev, said by phone today.
After both sides called yesterday for foreign mediation to help find a resolution to the crisis, opposition leaders met again today with Yanukovych, claiming the president plans to initiate a state of emergency. Officials including Prime Minister Mykola Azarov have denied such plans in recent days.
Clashes Resume
Riots flared up again in Ukraine's capital last night, prompting the interior minister to say that peaceful efforts to end the unrest were useless.
After a day of calm, clashes resumed shortly after 10 p.m. yesterday near parliament as demonstrators threw Molotov cocktails and police deployed rubber bullets and stun grenades. Interior Minister Vitaliy Zakharchenko said the opposition had lost control over radical activists and warned peaceful protesters to vacate central Kiev or be deemed extremists.
Activists in Kiev, who seized the Agriculture Ministry yesterday, took over five floors and the basement of the Energy Ministry today, the Unian news service reported.
Protesters are also occupying buildings of governors picked by Yanukovych in the western cities of Lviv, Ternopil, Rivne, Lutsk, Ivano-Frankivsk, Khmelnytskyi and Chernihiv and are targeting administrative offices in at least five more of the nation's 24 regions, smashing their way in when police offered resistance, TV5 reported.
Before it's here, it's on the Bloomberg Terminal.
LEARN MORE