Maryland Shopping Mall Shooting Leaves 3 Dead, Police Say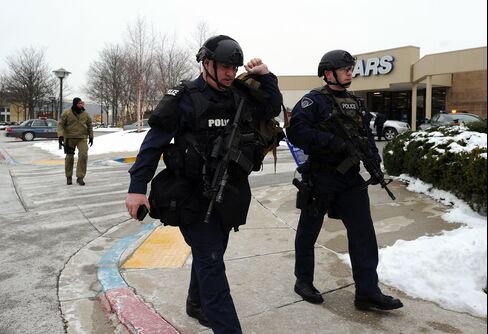 Three people were killed and five injured when a gunman opened fire with a shotgun this morning at a store in a suburban shopping mall in Maryland, police said.
The Howard County Police Department said the shooting at The Mall in Columbia occurred at about 11:15 a.m. local time, about an hour after it opened. One of those killed was the suspected gunman, who was found near a gun and ammunition, police said in a statement. The other two victims were store employees, a male and a female in their 20s, Howard County Police Chief Bill McMahon said in a televised news briefing held near the mall.
"We are very confident that it was a single shooter," McMahon said. The shooting seemed to be confined to the immediate area of the one store, he added. Five people were treated for injuries, one a gunshot wound, he said.
McMahon said the shooting happened in the upper level of the mall and that police as yet have no possible motive for the incident. Investigators were reviewing videos of the scene, he said.
The mall is located about 30 miles (48 kilometers) northeast of Washington.
The identities of the victims or the suspected shooter have yet to be released, McMahon said. It's unclear how many shots were fired, he said.
Took Shelter
Witnesses said dozens in the mall took shelter under tables, in stores or rushed to the exits after hearing several gunshots.
Caesar Calucag, 46, stopped by the mall to get lunch with his daughter April, 14. He was returning to his table when he heard gunshots and saw people rushing down the escalators. He hid under a table with his daughter and a 12-year-old girl, then fled through an exit.
"It was a terrifying nightmare," he said. "Everybody was running and I saw their faces and they looked terrified. It was so unreal."
Before it's here, it's on the Bloomberg Terminal.
LEARN MORE