Super Bowl's Social Media Concierge Service Opens in Manhattan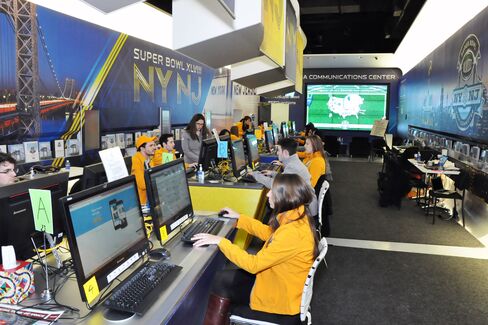 More than two dozen Super Bowl volunteers have taken over a New York City storefront to track online conversations and answer questions surrounding next week's championship game.
The 1,200-square-foot Social Media Communications Center, which opened yesterday in Manhattan, will act as the digital concierge for the National Football League's first outdoor cold-weather Super Bowl.
Through social media platforms such as Twitter and Facebook, fans can receive updates for weather, transit, security and entertainment regarding the Feb. 2 championship game and more than 100 auxiliary events scheduled for New York and New Jersey.
"It's two states, it's not just one rail system, it's not just one police department," host committee head Al Kelly said in an interview. "This is a complex marketplace. Social media is a truly interactive, two-way communication where answers can be provided quickly."
The center is located five blocks from Super Bowl Boulevard, a stretch of Broadway being converted into a fan festival with a 60-foot (18-meter) toboggan run. The game between the Denver Broncos and Seattle Seahawks at MetLife Stadium in East Rutherford, New Jersey -- about 8 miles (13 kilometers) west of Times Square -- is expected to bring 400,000 visitors to the region.
Many of them, unfamiliar with the city, will turn to social media for direction.
"In many cases people are asking questions, instead of turning to the person next to them or calling somebody, they throw it out to a group of people on social media and see what comes back," Kelly, 55, said.
Entertainment Options
The center staff, mostly volunteers, will be in contact with local tourism groups, the New York Police Department, New Jersey State Police, Metropolitan Transportation Authority and New Jersey Transit. They'll also provide fans with information for NFL-sponsored events, corporate and media parties, and other entertainment options in the next 10 days.
This is the third Super Bowl to operate a social media center, which augments traditional hospitality efforts such as websites, event guides and volunteers at hotels and airports. Kelly said the 2014 center is larger than ones at previous Super Bowls, with longer hours. It will operate from 8 a.m. to 10 p.m., with expanded hours as the game approaches.
The center, which yesterday was monitoring 45,000 online conversations, could play a bigger role for fans next week if weather threatens to alter public transportation in New York and New Jersey. Eleven inches of snow fell on New York City on Jan. 21, and temperatures across the eastern U.S. are expected to be at least 8 degrees below normal through Jan. 27.
"If we had to move an event an hour or two, or cancel an event because of weather, we wanted to have numerous mechanisms set up to blast messages out to people," Kelly said. "That message will be out there so much quicker through social media."
Twitter Deal
Facebook is the world's largest social network with more than 1 billion members. Twitter has close to 230 million.
Social media is part of the business strategy for the NFL, which has about $9.7 billion in revenue. The league in September signed a deal with Twitter for the microblogging site to carry video highlights of games.
The league has more than 5.7 million followers of its Twitter page, and more than 9.1 million likes on Facebook.
Before it's here, it's on the Bloomberg Terminal.
LEARN MORE