Self-Employed Workers' Big Concern About Obamacare Subsidies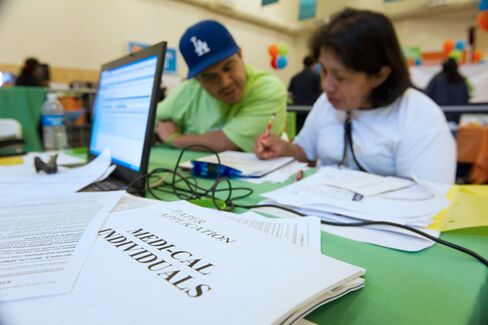 Question: In 2013, my husband and I were both employed and had company-provided health insurance. In 2014, we are both unemployed and starting our own business. We're not sure what kind of income we'll bring in this year so we're not sure how to figure out if we qualify for Obamacare subsidies. Our 2013 income will be too high to use as an estimate. Also, if we qualify for large subsidies, can we take them now and then reduce them later if our business takes off and we make more than expected? This seems like an obvious concern for many self-employed people.
Answer: This is indeed a large concern and it is particularly tough for you, since first-year business income can be wildly unpredictable. Even for the long-term self-employed, the uncertainty around estimating income to determine eligibility for subsidies is one of the major complications of signing up for state and federal Affordable Care Act marketplaces, oftentimes called Obamacare exchanges.
Basically, as I explained last year, Affordable Care Act subsidies are available on a sliding scale to individuals making up to about $45,000 annually and four-person households bringing in about $94,000. The idea is to help reduce the out-of-pocket cost for insurance, since it is now mandatory.
Katie Vlietstra, vice president for government relations at the National Association for the Self-Employed, says the uncertainty around estimating income is a major concern for her organization. Smoothing the transition for self-employed people, so they can get onto individual exchanges, is one of her group's top legislative issues for 2014.
The major difficulty, as you've identified, is trying to estimate what your income will be before it comes in. Healthcare.gov gives some instructions for how to do the calculation here.
"The challenge with this calculation is that if your income changes throughout the year, you are required to reimburse the government any subsidies you received, most likely in your 2014 taxes," Vlietstra writes in an e-mail. "Therefore, the NASE is working with the administration and Congress for a more accurate calculation, specifically having it calculated based on the previous year's adjusted gross income to avoid any unpredictability in any individual's or self-employed [person's] financial situation." Repayments are capped at between $300 and $2,500, depending on how much annual income you report.
That fix won't help someone like you much, however. You already know that your 2013 income is not a likely predictor for what you'll earn this year. John DiVito, president of Flexible Benefit, a Web-based insurance provider, has another idea: Estimate your 2014 income as best you can, but don't necessarily take the maximum subsidy that you are offered. "When someone applies through the exchange, they are notified of the maximum subsidy that they are eligible for based on the information provided. They are not required to take the maximum amount and can elect to take a lower subsidy," he says.
If your business does not provide as much income as you estimated, and you wind up needing help paying your insurance premiums, you could notify the exchange that you have experienced a change in your anticipated income. That should allow you to select a new plan and recalculate your subsidy. "You would have to work with the exchange to make any adjustments," DiVito says.
There is another benefit to starting with a more conservative subsidy: If you take less subsidy than you actually qualify for once your 2014 income is in, you will get some or all of that subsidy back, most likely in the form of a refund on your 2014 taxes.
Before it's here, it's on the Bloomberg Terminal.
LEARN MORE