Dinesh D'Souza Charged With Illegal Campaign Contribution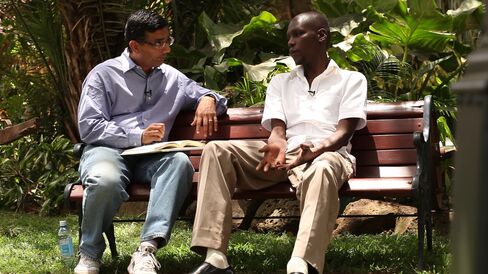 Jan. 24 (Bloomberg) -- Conservative political commentator and author Dinesh D'Souza, who made the film "2016: Obama's America," was charged with illegally directing $20,000 in contributions to a candidate for U.S. Senate from New York in 2012.
D'Souza, 52, of San Diego, was accused in a grand jury indictment of reimbursing others after getting them to make contributions to the unidentified candidate totaling four times the maximum of $5,000 that an individual is allowed to give during the campaign cycle, according to a statement yesterday from the office of Manhattan U.S. Attorney Preet Bharara. The best-selling writer is also charged with causing false statements to be made to federal campaign regulators about the amounts and sources of the donations.
Kirsten Gillibrand, a Democrat, defeated Wendy Long, a Republican, in the 2012 general election in New York for U.S. Senate. D'Souza made two individual contributions of $2,500 each to Long in March 2012, according to a Federal Election Commission database.
"This office and the FBI take a zero tolerance approach to corruption of the electoral process," Bharara said in the statement. "If, as alleged, the defendant directed others to make contributions to a Senate campaign and reimbursed them, that is a serious violation of federal campaign finance laws."
D'Souza is scheduled to be arraigned today, according to Bharara's statement.
"Simply put, there was no 'quid pro quo' in this case, nor was there even an knowledge by the candidate that campaign finance rules may have been violated," D'Souza's lawyer, Benjamin Brafman, said in a statement. "Mr. D'Souza did not act with any corrupt or criminal intent whatsoever."
A 1983 graduate of Dartmouth College, D'Souza served as a policy analyst for late President Ronald Reagan and as a fellow at the American Enterprise Institute and the Hoover Institution at Stanford University. He was president of The King's College in New York City from 2010 to 2012, according to his website.
To contact the reporters on this story: Bob Van Voris in federal court in Manhattan at rvanvoris@bloomberg.net; Christie Smythe in Brooklyn at csmythe1@bloomberg.net
To contact the editor responsible for this story: Michael Hytha at mhytha@bloomberg.net