CoCo Allure Grows as Ratings Rule Aids Solvency: Nordic Credit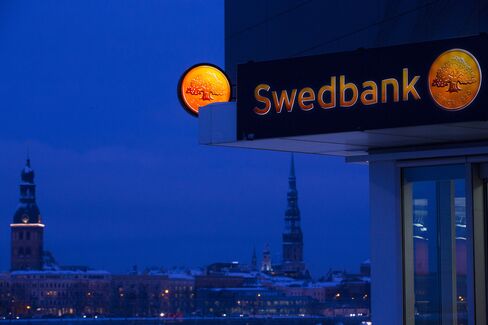 Jan. 24 (Bloomberg) -- Swedbank AB is about to become Europe's best capitalized bank thanks to an accounting method that will also cut the cost of issuing contingent convertible debt.
The method, advanced internal ratings based accounting, allows a bank to assign its own risk weights to assets. The bank then calculates its capital buffer on an internally weighted asset base. For lenders interested in selling contingent convertible securities -- debt that is either wiped out or turned into equity if buffers fall below a given level -- the bigger a bank's capital reserves, the cheaper the CoCos.
Gregori Karamouzis, head of investor relations at Swedbank in Stockholm, says final approval "is possible during the first quarter" of this year. Using internal ratings would release about 50 billion kronor ($7.8 billion) in risk-weighted assets at the Swedish lender and improve the core Tier 1 ratio by about 2 percentage points, he said in a telephone interview. The lender is considering issuing CoCos, Karamouzis said.
Swedbank, which will be the last of Sweden's four biggest banks to switch to advanced internal ratings based accounting, is now poised to overtake Svenska Handelsbanken AB as Europe's best-capitalized lender. Using the new method, Swedbank's core Tier 1 ratio would rise to about 20 percent of risk-weighted assets, compared with Handelsbanken's ratio of 18.8 percent, under Basel III regulation, at the end of September.
'Significant Factor'
"An approval would benefit Swedbank if it chooses to issue a contingent-convertible structure," Thomas Hovard, head of credit research at Danske Bank A/S, said in an interview. "When issuing CoCos, the solvency buffer to the trigger level is a significant factor in determining the spread at issuance."
Subject to some of the world's strictest capital rules, Sweden's biggest banks boast reserves that are more than double the minimum 7 percent Basel requirement that's due to take effect by 2019. That's opening up new funding opportunities as investors reward the lenders for protecting them against losses.
The correlation between the capital cushion and the valuation of capital securities is strong, Dominik Winnicki, an analyst at Barclays Plc, said in a note dated Jan. 10. For every 1 percentage point increase in the cushion, there is a tightening of about 20 basis point in bond spreads, he said.
Best Capitalized
"Sweden's banks are among the best capitalized in Europe," Barry Donlon, head of DCM capital solutions for Europe, the Middle East and Africa at UBS AG in London, said in an e-mailed response to questions. "Assuming the banks opt for a 5.125 percent or 7 percent trigger, as we have seen in the rest of Europe, the risk of breaching the trigger is extremely remote. Consequently, the bonds could price with coupons as low as 5 percent or 6 percent."
Swedbank is "considering issuance of new-style CoCos to efficiently fill our solvency buffers," Karamouzis said. The bank is waiting for clarity on Swedish rules and requirements before making a decision on issuance, a process Karamouzis said the lender hopes to start during the spring.
According to the Swedish financial regulator, banks shouldn't assume that using internal ratings to asses how risky assets are will always result in lower risk weightings.
It is "important that management and people within risk control maintain this system according to the rules we have and are prepared for the fact that risk-sensitivity under IRB can go in both directions," Christer Furustedt, head of banking supervision at the Swedish Financial Supervisory Authority in Stockholm, said in a telephone interview on Jan. 22.
'More Sensitive Method'
"Using IRB is a way to improve the management of risk and the assessment of capital needs at banks -- with IRB, they get a more sensitive method to measure risk as the standardized method is rather blunt," he said. "The intention is to have a more sensitive measurement of risk, where it is measured more carefully and better reflects the actual risk-level."
The spread over swaps on Swedbank's 3 percent lower Tier-2 bond maturing 2022 has narrowed to 128 basis points from more than 180 basis points in February last year. In Europe, the cost of insuring against losses on banks' subordinated bonds has also fallen over the past year. The Markit iTraxx Subordinated Financial Index of credit-default swaps, currently quoted at about 140 basis points, reached a four-year low last month.
Royal Bank of Scotland Group Plc expects the market for European bank CoCos to grow to 100 billion euros ($137 billion) this year and earlier this month Bank of America Merrill Lynch introduced an index to track contingent-capital debt.
To contact the reporter on this story: Charles Daly in Stockholm at cdaly22@bloomberg.net
To contact the editors responsible for this story: Deborah L Hyde at dhyde10@bloomberg.net; Daniel Tilles at dtilles@bloomberg.net