Alibaba Stake Plan Makes Citic 21CN Jump Most Since 2000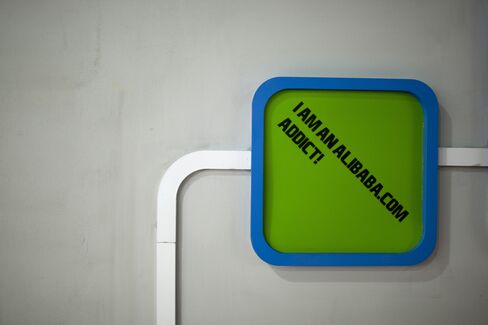 Citic 21CN Co. surged the most in 14 years in Hong Kong trading after Alibaba Group Holding Ltd., the owner of China's biggest e-commerce business, said it would invest in the company to enter the drug-data industry.
Citic 21CN jumped more than fourfold, the most since February 2000, to HK$3.92 at the close in Hong Kong. Alibaba and Yunfeng Capital said they would buy a controlling stake in Citic 21CN for HK$1.33 billion ($171 million). Closely held Alibaba may inject certain businesses into Citic 21CN, according to the filing.
"Alibaba might see value in Citic 21CN's online drug store and leverage on its own logistics network," said Ricky Lai, an analyst at Guotai Junan International Holdings Ltd. in Hong Kong. "The prospects and demand for better health care in China are great."
Alibaba may use the purchase to help it compete against Tencent Holdings Ltd. for China's 618 million Internet users who spend money online. Tencent earlier this month said it plans to invest HK$1.5 billion for a 9.9 percent stake in a logistics center operator China South City Holdings Ltd.
Alibaba, through wholly owned Perfect Advance Holding Ltd., has agreed to buy 4.4 billion Citic 21CN shares at 30 Hong Kong cents each, taking a 54.3 percent stake, Citic 21CN said in a filing to Hong Kong stock exchange yesterday. Yunfeng, a private equity firm co-founded by Alibaba Chairman Jack Ma, will buy a 29.8 percent stake in Perfect Advance before the share sale is completed, according to the statement.
Citic 21CN
On completion of the deal, Alibaba will hold 38.1 percent of Citic 21CN and Yunfeng 16.2 percent, Alibaba said. The buyers will seek a waiver from Hong Kong rules that require purchasers of a majority stake in company to make a buyout offer for all outstanding shares, Citic 21CN said.
"The transaction is the foundation for a strategic partnership aiming at jointly driving development of a pharmaceutical-product information platform," Alibaba said in an e-mailed statement yesterday. The platform will use Citic 21CN's drug data and Alibaba's e-commerce, cloud computing and "big data" capabilities, it said.
Citic 21CN mainly engages in system integration, software development and services for drug authentication, tracking and logistics, according to its filing.
Chinasoft International Ltd., a company that has said its a contractor for Citic 21CN's cloud computing services, rose the most since June 2011 to HK$2.40.
Alibaba recently invested in New York-based 1stdibs.com Inc. and is looking to work with the luxury-sales site "for years to come," Alibaba said in a separate e-mailed statement.