Wendy's Next Expedition in Bread: Ciabatta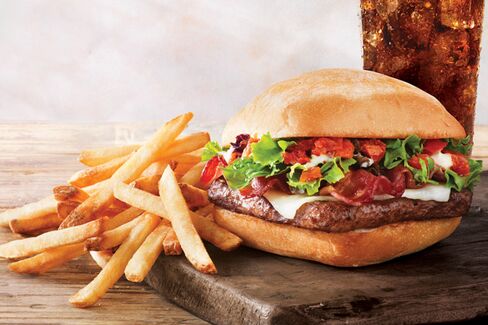 First there was flatbread. Then came the pretzel bun, followed by brioche. Next up in Wendy's firm carbohydrate counterattack: ciabatta. Starting Jan. 27 through March, Wendy's will offer a ciabatta bacon cheeseburger, which is smeared with a rosemary garlic aioli and topped with roasted tomatoes, executives at the fast-food chain tell Businessweek.com.
The new burger, which costs about $4.79, is part of a strategy to offer more premium products—alongside value items like 99-cent sandwiches—as part of a brand revamp to position Wendy's as a higher-end fast-food chain (new stores, for instance, now feature fireplaces). Wendy's describes the new bread as having "a light, airy texture and a thin, delicate crust."
That's to be contrasted with the chain's existing, plain-bunned bacon cheeseburgers like the Baconator—which comes with two beef patties and mayo and is on the high end of prices at Wendy's—and the smaller, cheaper Junior Bacon Cheeseburger.
Wendy's Chief Marketing Officer Craig Bahner says, "Bread is a critical part of product design" as it's the one ingredient consumers really see. The bread may be included in the sandwich's name, but to further differentiate the product from what competing burger chains are offering, a lot of thought went into the other new ingredients, too, such as the aioli and the roasted tomatoes, he says. "It's not just about taking an existing sandwich and putting a different bread on it."
That may be so, but the new buns have featured prominently in Wendy's marketing, and the company attributes same-store sales increases in recent quarters to the success of these limited-time products. A recent earnings report said same-store sales accelerated in the second half of the year (at company-owned units, they increased 3.2 percent in Q3 and 3.1 percent in Q4) due to strong consumer reaction to the pretzel bacon cheeseburger, pretzel pub chicken sandwich, and bacon portabella melt on brioche.
"Consumers are clearly telling us that we're regaining our position as an innovator in the marketplace," Chief Executive Officer Emil Brolick said at a conference this month.
The attention these products have attracted is unusual in fast food. A recent NPD survey found that the vast majority of consumers never try limited-time items at restaurants, often because they get overlooked on cluttered menu boards. Wendy's is determined to make sure this doesn't happen. Bahner says, "We expect to get a very high level of awareness and trial on the ciabatta bacon cheeseburger with an integrated marketing program that will feature TV, radio, digital, social, and PR. It will be impactful." Get ready for a marketing offensive.
Before it's here, it's on the Bloomberg Terminal.
LEARN MORE