Thai Court to Rule Whether Election Can Be Delayed Amid Protests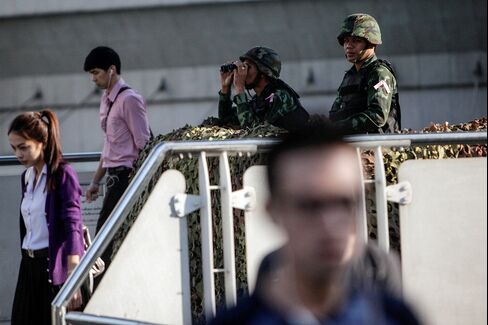 Jan. 24 (Bloomberg) -- Thailand's Constitutional Court will rule today on whether an election scheduled for Feb. 2 can be delayed amid an escalation of political violence in Bangkok. Stocks rose to a one-month high.
The court accepted a petition from the Election Commission asking it to determine whether the commission or the government has the power to postpone the vote, it said yesterday.
The government imposed a state of emergency in Bangkok Jan. 22 after a series of bombings and shootings in the capital left one person dead and 70 injured. Suthep Thaugsuban, an opposition politician leading the protests, has vowed to continue blockades of major Bangkok intersections that began on Jan. 13 until Prime Minister Yingluck Shinawatra resigns.
"Any delay in the election would help ease political tension for now," Jitra Amornthum, head of research at Finansia Syrus Securities Pcl in Bangkok, said yesterday. "Still, political risk in the Thai financial markets remains very high as an election delay is unlikely to completely resolve the political deadlock."
Thailand's SET Index rose 1.4 percent to close at 1,308.34, the highest level since Dec. 26. The measure was the biggest gainer among Asia's benchmark stock indexes yesterday.
'Time to Talk'
Suthep led supporters on a march through Bangkok's commercial districts yesterday to gather support and funds for his movement, which aims to destabilize Yingluck's administration and force her to quit. Suthep, who has refused offers to negotiate, wants the government replaced with an unelected council that would change laws to prevent parties linked to her brother, former premier Thaksin Shinawatra, returning to power.
"It's irrelevant," Suthep said when asked whether an election delay would prompt him to end the protest. "Our target is to reform the country and overthrow the Thaksin system."
There have been no reports of major violence in Bangkok since Yingluck announced the state of emergency. An emergency decree was last used to combat protests in 2010, when the opposition Democrat party held power and oversaw a crackdown on protesters loyal to Thaksin.
"It's time to talk to each other," Yingluck told reporters. "The government is ready to open a forum, to open all the doors at all times for talk. No prime minister has ever faced something like this. I am patient but I want to ask for sympathy from protesters."
Too Tense
The decree bans gatherings of more than five people and prohibits them from inciting unrest, according to a statement in the Royal Gazette. It also prohibits the media from distributing misinformation and imposes restrictions on the use of some roads and buildings. No curfew has been imposed.
The Election Commission has urged the government to defer the vote until May, saying the political environment is too tense to proceed next month. Candidates in some southern provinces were unable to register for the poll because of a blockade by protesters, which means parliament won't achieve the quorum needed even if the election goes ahead.
The Constitutional Court's six judges voted unanimously to accept the Election Commission's petition.
"There is a dispute over the power and roles of the Election Commission and the Cabinet, which are organizations under the constitution," the court said in a statement. Judges will discuss the petition at 9:30 a.m., and expect to announce their ruling later in the day.
Suthep's critics have said he seeks to create enough turmoil to spur the intervention of the military in a repeat of a 2006 coup that toppled Thaksin, whose allies have won the past five elections on support from rural northern and northeastern regions.
Democrat Boycott
The protesters, mostly middle-class Bangkokians and Democrat party supporters from southern provinces, say Yingluck's government is illegitimate and run from abroad by Thaksin, who faces a two-year jail term for corruption if he returns in a case he says was politically motivated. Suthep's former party, the Democrats, have lost every national election over the past two decades and plan to boycott next month's poll.
Yingluck dissolved parliament Dec. 9 and announced the election a day after the Democrats resigned en masse to join the rallies, which at their peak drew more than 200,000 people. Protesters initially took to the streets to oppose the proposed amnesty law which the government abandoned. The demonstrations later morphed into a broader movement to erase Thaksin's influence.
To contact the reporters on this story: Suttinee Yuvejwattana in Bangkok at suttinee1@bloomberg.net; Anuchit Nguyen in Bangkok at anguyen@bloomberg.net
To contact the editor responsible for this story: Tony Jordan at tjordan3@bloomberg.net