Rouhani Tells Davos Iran Will Push for Final Nuclear Accord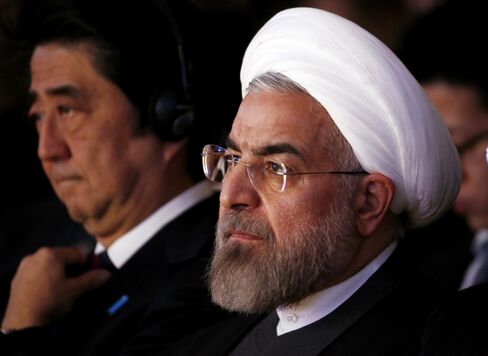 Iranian President Hassan Rouhani said his country won't impede progress toward a final nuclear accord with world powers and will use "constructive engagement" to help Iran's sanctions-hit economy recover.
Iran's will to reach a comprehensive accord is "present and strong," the president said today at the World Economic Forum in Davos, Switzerland. Hurdles may arise if other parties show a "lack of serious will" to secure a deal, he said.
Rouhani, the first Iranian leader in a decade to attend the conference, is seeking investment to boost an economy battered by international sanctions imposed over Iran's nuclear work. Growth contracted more than 5 percent in the last fiscal year.
"One of the theoretical and practical pillars of my government is constructive engagement with the world," Rouhani said in his address. "Without international engagement, objectives such as growth, creativity and quality are unattainable. We will make use of active foreign policy to achieve economic development."
Rouhani spoke in Davos after the implementation this week of an interim deal between his nation and six world powers that curbs Iran's atomic program in exchange for about $7 billion in sanctions relief. The accord, struck in Geneva Nov. 24 with the the so-called P5+1 group -- the U.S., the U.K., France, Russia, China and Germany -- marked the first breakthrough in a decade-long standoff.
Rouhani's presidency is "perhaps the only opportunity for Iranians to lift themselves economically and to engage the international community," Mahmood Sariolghalam, professor of international relations at Tehran's Shahid Beheshti University, said during a panel discussion in Davos yesterday. "It took some courage and realism from the political establishment in Iran to engage the P5+1 in its nuclear negotiations in order to stop Iran's national economic decline."
To rescue the economy, "it was very clear that Iran had to change its foreign policy orientation," Sariolghalam said. "The nuclear problem was the central issue."