Ranbaxy Drugs at Fourth Plant Banned From U.S. Market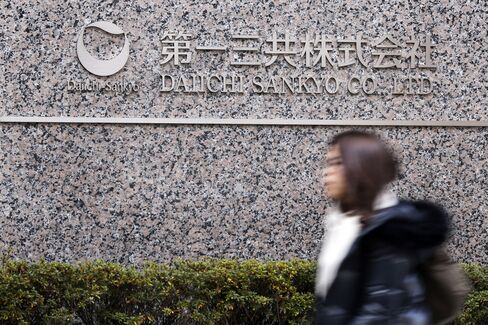 Ranbaxy Laboratories Ltd., the drugmaker controlled by Japan's Daiichi Sankyo Co., can't make or distribute drug ingredients from a fourth plant in India for the U.S. market, regulators ordered. The stock plunged.
A U.S. Food and Drug Administration inspection of Ranbaxy's Toansa facility found that workers retested drug products to produce acceptable findings after the items originally failed analytical testing. Ranbaxy fell as much as 20 percent in Mumbai trading, while parent Daiichi Sankyo declined as much as 6.9 percent in Tokyo.
The ban on the Ranbaxy factory is the latest blow for India's generics industry, which sells drugs and ingredients worldwide. Products from three other Ranbaxy plants were already prohibited in the U.S. because of quality control issues, while other local competitors such as Wockhardt Ltd. have also come under scrutiny from the FDA.
"This development is clearly unacceptable and an appropriate management action will be taken upon completion of the internal investigation," Arun Sawhney, Ranbaxy's chief executive officer and managing director, said in a statement.
The plant in Toansa, Punjab, makes a "huge part" of Ranbaxy's active pharmaceutical ingredients, which are the drug components it uses to formulate medicines and sell to other drug companies, Balaji Prasad, an analyst at Barclays Plc in Mumbai said in an interview today.
Potential Shortages
The FDA said it's investigating potential drug shortages that may result from the ban. Ranbaxy must hire a third party to inspect the Toansa facility and certify to the FDA that its methods meet manufacturing standards. Ranbaxy spokesman Gaurav Chugh did not immediately respond to an e-mail seeking information on the drug ingredients manufactured at the plant.
Generic drugmakers' profits come from producing all drug ingredients in-house, and finding new suppliers could erode margins at the Gurgaon-based company, according to Prasad. "So it's going to be a big challenge for them profit-wise."
Ranbaxy got about 43 percent of its 122.5 billion rupees ($1.97 billion) in revenue from North America in 2012, data compiled by Bloomberg show. The stock fell 18 percent to 343.55 rupees as of 11:39 a.m. in Mumbai, poised for the biggest drop since Sept. 16.
Past Troubles
Daiichi Sankyo, which holds about 63 percent of Ranbaxy, will report any impact to its earnings when it has done its analysis, the Tokyo-based parent said in a statement.
The Toansa plant joins three others that are part of a January 2012 consent decree with the U.S. Justice Department to ensure compliance with manufacturing standards and address data integrity issues.
"We are taking swift action to prevent substandard quality products from reaching U.S. consumers," Carol Bennett, acting director of the Office of Compliance in the FDA's Center for Drug Evaluation and Research, said in a statement. "The FDA is committed to ensuring that the drugs American consumers receive -– no matter where they are produced –- meet quality standards and are safe and effective."
Ranbaxy said today it would cooperate with the agency and apologized to all its stakeholders for the inconvenience caused by the suspension of shipment. The company's website says it has 21 manufacturing facilities across eight countries and its products range from anti-retrovirals to painkillers.
In May, Ranbaxy agreed to pay $500 million to resolve fraud allegations made in a whistle-blower's lawsuit and federal criminal charges that the company sold adulterated drugs while lying about it to U.S. regulators.
Ranbaxy's competitor Wockhardt was in November banned from selling some medicines to the U.S. from its most lucrative factory in India after U.S. regulators added it to a list of restricted facilities.
Before it's here, it's on the Bloomberg Terminal.
LEARN MORE