Least Note Sales Signal Best Post-Recession Budgets: Muni Credit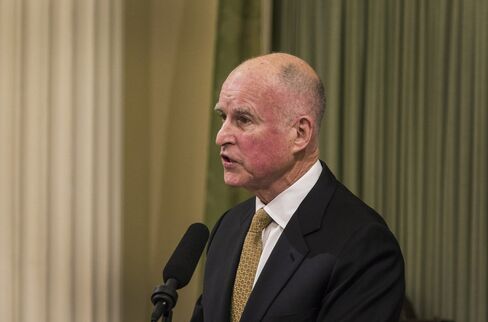 The smallest wave of municipal note sales in seven years is poised to extend into 2014, signaling the brightest fiscal outlook for U.S. local governments since before the recession.
From the nation's capital to California, states and cities are using less short-term debt to bridge cash shortfalls more than four years after the longest recession since the 1930s. Last year, municipalities issued about $46 billion of fixed-rate debt maturing in 18 months or less, the least since 2006, data compiled by Bloomberg show. Sales may drop again in 2014, according to a Securities Industry and Financial Markets Association survey.
The 2013 supply slowdown converged with bets that interest rates would rise as the Federal Reserve curbs its bond-buying program, fueling demand for the shortest-maturity debt as a haven. Munis due in one to three years logged a 1 percent gain for the past 12 months, while all state and local bonds fell 2.1 percent, Bank of America Merrill Lynch data show.
"States and municipalities have been much more fiscally responsible in dealing with their budgets," said Steven Shachat, who oversees $1.4 billion of local debt, including a money-market fund, at Alpine Woods Capital Investors in Purchase, New York. With revenue increasing, there's less need for short-term debt, he said.
Need-Based
The reduced need for such financing builds on other signs of a fiscal rebound for municipalities. California, New York and Florida are among states projecting surpluses as tax collections nationwide have grown for 15 straight quarters, Census Bureau data show. At the local level, cities forecast their first revenue increase since 2006, according to a survey released in October by the National League of Cities in Washington.
All but seven of 363 metropolitan areas will see economic gains this year, including areas that struggled to rebound from the recession, according to a report released yesterday by the U.S. Conference of Mayors.
"We're in the real recovery, not just the recovery that economists talk about," said Mayor Scott Smith of Mesa, Arizona, president of the Washington-based group, in an interview. "We see light at the end of the tunnel."
Tax Timing
Municipalities typically sell notes to raise money before tax collections flow in, or to fund projects before a sale of longer-dated securities.
Last year's tally of notes represented almost 16 percent of fixed-rate sales, the smallest percentage since 2007, Bloomberg data show. Issuance fell 19 percent from 2012.
The decline was steeper than the drop in long-term deals, which fell 15 percent to about $293 billion, the least since 2011.
Sales of notes may diminish again this year, according to a Sifma survey of underwriters and bond dealers, including Goldman Sachs Group Inc. and Morgan Stanley. Municipalities will issue about $40 billion in short-term notes in 2014, the report showed.
Localities have offered about $1 billion of notes this month through Jan. 22, Bloomberg data show. The biggest deal was a $325 million taxable pension-obligation borrowing from Orange County, California, which filed for bankruptcy protection in 1994.
California Rebound
At the state level, California is curbing short-term financing as the biggest surplus in more than a decade reduces the need for notes to cover cash-flow needs. The most-populous U.S. state sold $5.5 billion of notes in August, putting it on pace for the least short-term borrowing since 2009.
Governor Jerry Brown "is continuing to take a rather prudent approach to the budget this year and is still very much interested in increasing their rainy-day fund," said Konstantine "Dino" Mallas, who helps oversee $20 billion of munis at T. Rowe Price Group Inc. in Baltimore.
In a sign of the state's fiscal improvement, Standard & Poor's last week raised its outlook on California to positive. That put the state on the verge of its best grade from the New York-based company since 2009.
About 2,800 miles (4,500 kilometers) east, Washington in October issued $405 million of one-year obligations, 40 percent less than in 2012 and the smallest sale since 2008.
Indiana Leads
The Indiana Bond Bank leads issuers this week in offering about $251 million of short-term debt, according to Bloomberg data. The agency's $83 million borrowing will go toward purchasing tax-anticipation obligations of schools, cities and counties, offering documents show.
In the long-term part of the $3.7 trillion municipal market, issuers from Oregon to Florida are offering about $4.9 billion in bonds this week with benchmark yields at the lowest since November.
The interest rate on AAA 10-year munis is about 2.69 percent, Bloomberg data show. That compares with 2.87 percent on similar-maturity Treasuries.
The ratio of the yields, a measure of relative value, is about 94 percent, close to the lowest since May. The smaller the number, the more expensive munis are compared with federal securities.
Before it's here, it's on the Bloomberg Terminal.
LEARN MORE