Is Finland a Victim of the Austerity Medicine It Prescribed for Europe?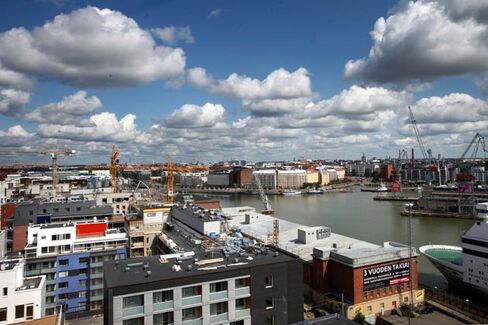 Finland stood resolutely with austerity hawks in the debate over managing Europe's debt crisis. But while that crisis is now easing, Finland's own economy is ailing—and some are asking whether an overdose of austerity is to blame.
The economy has contracted for the past two years, even as Helsinki kept a tight lid on budget deficits and maintained the euro zone's best-rated sovereign debt. This year doesn't look much better, with the government forecasting 0.8 percent growth and unemployment expected to rise to 8.4 percent. The central bank warned this month that Finland's debt load could double over the next decade, making the country one of Europe's most indebted.
Adding to the gloom, Nokia, leader of its once-vibrant technology industry, today reported plunging fourth-quarter sales at its core network-equipment business and predicted shrinking profit margins this year. Nokia has sold off its struggling mobile-phone business to Microsoft, and potential buyers are circling some other weakened companies.
"Although the Finnish economy seems to have ended a recession in technical terms, the situation has not improved much," says economist Pasi Kuoppamäki of Danske Bank.
What's gone wrong? Nobel Prize-winning economist Paul Krugman, on a recent visit to the Nordic region, called Finland "significantly depressed" and blamed its woes on austerity policies that have undercut domestic consumption. Finland has held its budget deficits below 3 percent of GDP for more than a decade. It's now the only euro zone economy with a stable AAA credit rating.
Prime Minister Jyrki Katainen has said his government can't afford more spending to stimulate the economy. Indeed, the government plans "further austerity measures, meaning spending cuts and possibly some tax increases," he said on Jan. 12. That could have a "negative impact on economic growth in the short term," he added.
The government says it's counting on a rise in exports to drive economic recovery. But boosting exports will require clamping down on wages, which have risen faster in Finland than in any euro zone country over the past decade, seriously denting the competitiveness of the forestry and technology industries that are its key exporters. "It's the structure of our exports that's a big problem, and that has nothing to do with austerity," says Danske Bank's Kuoppamäki.
Even if austerity isn't entirely to blame for Finland's current problems, further austerity measures could make things worse. Holding the line on wage increases could dampen consumer demand still further, along with curbs on pension and welfare spending that the government wants to impose. Although Finland needs to revamp its welfare state, KuoppamUaki says, "this might not be the right time to address it."
Before it's here, it's on the Bloomberg Terminal.
LEARN MORE