Hamptons Year-End Home Sales Fall From Record 2012 Pace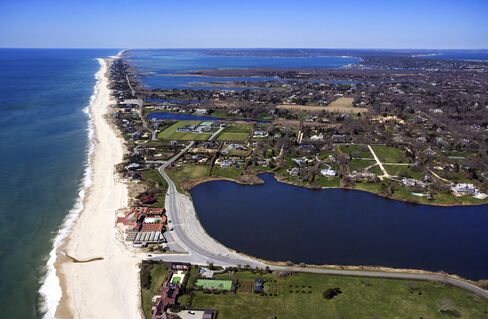 Jan. 23 (Bloomberg) -- Home sales in New York's Hamptons, the beachside retreat of financiers and celebrities, declined last quarter from a record set a year earlier when sellers rushed to unload properties before an expected tax increase.
Transactions in the fourth quarter totaled 496, down from 529 in the same period in 2012, when purchases reached an end-of-year high, according to a report today by appraiser Miller Samuel Inc. and brokerage Douglas Elliman Real Estate. The median price of completed deals declined 15 percent to $770,500 as more homes for less than $1 million changed hands.
"I don't see it as a weakening of the market," Jonathan Miller, president of New York-based Miller Samuel, said in an interview. "The skew caused by the fiscal cliff is what drove the numbers" a year earlier.
Hamptons home sales for $5 million or more surged at the end of 2012, when high earners expected their capital-gains tax burden to rise as Congress negotiated a budget deal into the new year. Demand shifted toward smaller properties in the fourth quarter of 2013, with deals for less than $1 million climbing 9 percent from a year earlier, Miller said. Purchases for more than $1 million, by contrast, fell 24 percent.
A separate report on the Hamptons by brokerage Town & Country Real Estate, released last week, showed sales from $500,000 to $999,000 jumped 55 percent from the fourth quarter of 2012. Sales of homes priced from $1 million to $1.99 million rose 30 percent, the brokerage said.
'Manageable' Deals
"There's definitely a movement that less is more," said Judi Desiderio, president of Town & Country. "It's a movement toward what's manageable in the long term as opposed to 'I have all this money and now I'm just going to let it rip.'"
The number of all Hamptons homes listed for sale in the fourth quarter surged to 1,569, up 53 percent from a record low a year earlier, Miller Samuel and Douglas Elliman said. Properties that sold in the quarter spent an average of 163 days on the market, or 25 percent less time than in the fourth quarter of 2012, according to the firms.
Sales in the Hamptons, a second-home market that is tied to the fortunes of Wall Street, may increase in the coming year as New York City employment improves and rising interest rates push shoppers off the fence, Miller said.
Mortgage rates jumped from near-record lows in May on speculation that the Federal Reserve would taper its bond purchases. The average rate for a 30-year fixed mortgage was 4.41 percent in the week through Jan. 16, up from 3.35 percent in early May, according to Freddie Mac.
'Gradual' Improvement
Buyer expectations that purchases will become costlier drove home sales in Manhattan to a fourth-quarter record in 2013, Miller Samuel and Douglas Elliman said in a Jan. 3 report.
"The key word is 'gradual' so we're not expecting a robust year" in the Hamptons, Miller said. "But we're expecting an improvement over last year in terms of modest price growth and stable sales activity."
In the Bridgehampton and Sagaponack areas, home sales climbed 24 percent in the quarter and the median price of those transactions rose 14 percent to $3.75 million, according to brokerage Corcoran Group, which released a separate report on the Hamptons market today. Purchases jumped 72 percent in Southampton Village, where the median price was $2.55 million, up 28 percent from a year earlier.
Sales in Amagansett fell 9 percent and the median price dropped 13 percent to $1.61 million, Corcoran said.
To contact the reporter on this story: Oshrat Carmiel in New York at ocarmiel1@bloomberg.net
To contact the editor responsible for this story: Kara Wetzel at kwetzel@bloomberg.net